Real Madrid's Varane: "Last season was inevitable"
In an interview with AFP, the Real Madrid defender discussed his goals for the year and denied he ever thought about joining Manchester United or Juventus.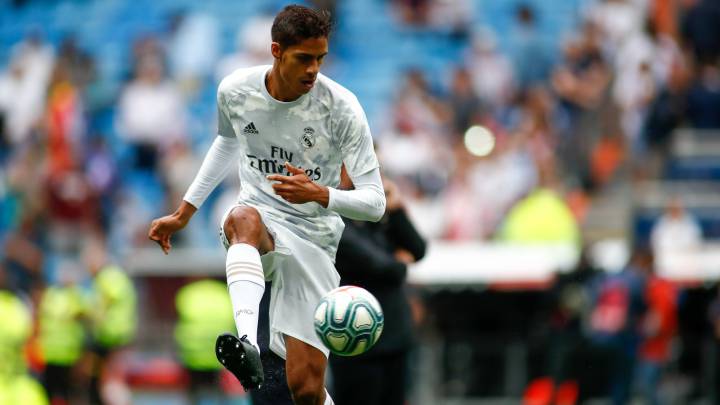 Raphaël Varane has insisted that he never had any intention of leaving Real Madrid despite rumours linking the France defender with a move to Manchester United or Juventus and stated that Real Madrid's failure to win anything last season was "inevitable" after three consecutive European crowns.
"Due to the physical and mental exertion of all the previous seasons with so many games played, under so much pressure and intensity, it was always going to come to an end at some stage," Varane said during an interview with AFP. Of this season's competition, which pits Madrid against PSG, who they eliminated last season in the first knock-out stage before falling to Ajax in the quarter-finals, Varane observed: "PSG will be very motivated, they are a very complete side with great players. They are very compact and they have a lot of quality in every area of the pitch."
The Ligue 1 champions will be missing Neymar through suspension and Kylian Mbappé due to injury but Varane is still taking nothing for granted: "They will play to win so we will have to play a perfect game ourselves."
Zidane "instills the necessary conditions to run a dressing room"
The 26-year-old France defender also suggested the return of Zinedine Zidane to the Bernabéu will restore Madrid to their previous status after a disappointing season largely conducted under the auspice of Julen Lopetegui and Santiago Solari. "It's exceptional [that Zidane returned], Varane said. "He instills the necessary conditions to run a dressing room," Varane said, adding that he is keen to learn everything he can from the former France great at club level and his erstwhile international teammate Didier Deschamps, who captained the Les Bleus side of 1998 and 2000 to European Championship and World Cup glory. "He is also a great champion and I try to pick up every tip he gives me."
However, despite Deschamps leading France to the World Cup title in Russia last year, Varane admits that the Euro 2016 loss to Portugal on home soil still rankles. "I have never experienced anything like that. It was a unique opportunity at a given point in my career and at that point it really was my top priority. It was a huge disappointment to lose it at home."
Varane: "
I decided to stay in Madrid. At this club, you have to set the bar high"
Will France be out to right that wrong in 2020 and try to emulate the side of Zidane, Deschamps, Marcel Desially, Lilian Thuram and Bixente Lizarazu by holding both major international titles at the same time? "Right now I'm not thinking about that. I'm concentrating on the season here and then when I'm with the national team I'll give it everything I have to try and help us to the title. First we have to qualify and I'll work my hardest to make that happen."
Finally, Varane scotched the summer rumours that he may have been thinking about a change of scenery after seven seasons at the Bernabéu: "I decided to stay in Madrid. At this club, you have to set the bar high and have very high expectations."