Martin Ødegaard's medium-term plan with Real Sociedad
The Norwegian is clear that he needs to cosolidate his place at La Real so that he will be fully prepared to return to Real Madrid in two year's time.
Martin Ødegaard has a plan - a long-term plan to succeed at Real Madrid. But to achieve that, he knows he has to do well with Real Sociedad in the short to medium-term - and that means completing both years of his loan deal with the Basque club. Ødegaard requested a two-year loan precisely so that he could continue his progression and be at the level required to compete for a place at Real Madrid in 2021. Initially it seemed he would be loaned out to Bayer Leverkusen, but the player wasn't entirely convinced. He needs regular playing time - something which he would never get at Madrid this season. His agent, ex-Liverpool and Real Sociedad defender Bjørn Tore Kvarme, recommended a visit to Real Sociedad's training complex in Zubieta and meet up for a chat with people at the club who had enquired about his situation in the past and were interested in a possible loan arrangement.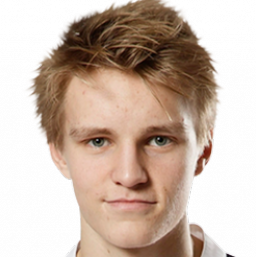 Just one visit to San Sebastián and an afternoon in Zubieta was enough to convince Ødegaard that this was the perfect place for him. Real Sociedad is a club which traditionally brings young players through from the youth ranks and will offer opportunities with the first team that are hard to come by at other clubs. The family-orientated atmosphere at La Real was another factor which won Ødegaard over - it's the ideal place for him to gain regular playing time, acclimatise to LaLiga and continue his own self-development. Ødegaard wanted a two-year loan and Real Sociedad are prepared to offer him two years at the club. Madrid and La Real have an agreement for Ødegaard to stay in San Sebastián for the next two years although due to Federation regulations, only one-year loan deals can be formally signed.
At Real Sociedad, everyone is delighted with the Norwegian, who is decribed as a model professional who gives 100 per cent in every training session and is usually the last to leave Zubieta. As well as completing all of the training drills programmed by Imanol Alguacil and his coaching staff, Ødegaard regularly stays behind to put in extra work after the session has ended. He puts himself through gruelling workouts afterhours in the club gym followed by physiotherapy sessions. His considers these additional workouts to be part of his normal, daily routine which usually ends at 3pm. 
The player is also regularly visited by his family. This week his father Hans Eric Ødegaard, his uncle Thomas and Kvarme are in San Sebastián to see how he's getting on. So far, it couldn't be working out better for the player - and Real Sociedad who are delighted with him.