PSG-Madrid presidents meet with Neymar, Mbappé on the menu
Florentino Pérez will use Wednesday's lunch meeting with PSG counterpart Nasser Al-Khelaifi to serve as a thermometer of the situation regarding both PSG stars.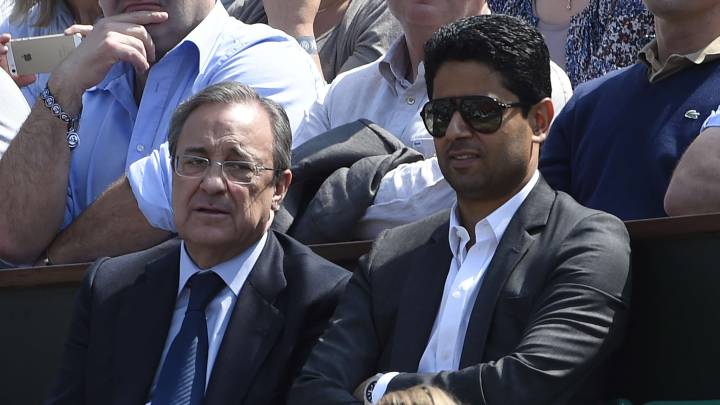 The directors of PSG and Real Madrid will take advantage of the Champions League match in Paris to sit and talk football.
As is tradition, presidents Florentino Pérez and Nasser Al Khelaifi will meet for lunch (once again at Paris' Guy Savoy restaurant), where the former will try to ascertain the feasibility of signing two of the latter's stars: Neymar and Mbappé.
Relations between Pérez and Al Khelaifi are excellent. The pair have held a type of non-aggression pact of late, in which they have agreed not to make sly advances on each other's players.
The last two transactions between the clubs, Keylor Navas and Alphonse Areola, came about by mutual agreement and after cordial negotiations. Unlike with Barça, Al Khelaifi has very good dealings with Madrid.
Mbappé and Neymar could test PSG-Madrid ties
However, the future for the relationship may not be so rosy. Madrid's desire to sign Neymar and particularly Mbappé is no secret.
While Mbappé was still at Monaco, Madrid were close to signing the young star before he eventually joined PSG. And Pérez still plans on mounting an offensive to sign him at some point in the future, which would certainly be a test on the warm ties between the clubs.
Whether that move will happen will depend very much on the will of Mbappé himself to leave Paris, his hometown, and PSG's willingness to let him leave – which, judging from the club's stance in recent Neymar negotiations with Barcelona, could be very low. PSG's goal is to win the Champions League, and to do that, they are aware that they cannot be a selling club.
Neymar situation
The Neymar affair is different, from the point of view of Madrid. The Brazilian has been on the club's radar on several occasions and he was even registered with the club as a child.
However, the Brazil star's ties with Barcelona and his desire to return there put Madrid very much in second place in the race to sign him. Nevertheless, Pérez will continue to keep tabs on the 27-year-old striker, who plays a very different game to preferred target Mbappé.
In the meantime, Pérez will use Wednesday's lunch meeting with Al Khelaifi to serve as a thermometer of the situation regarding both PSG stars.