Bale, Benzema, Hazard: debut for Real Madrid's 'BBH'
Real Madrid's front three against PSG saw the BBH make their first appearance - the BBC but with Hazard in place of Cristiano Ronaldo.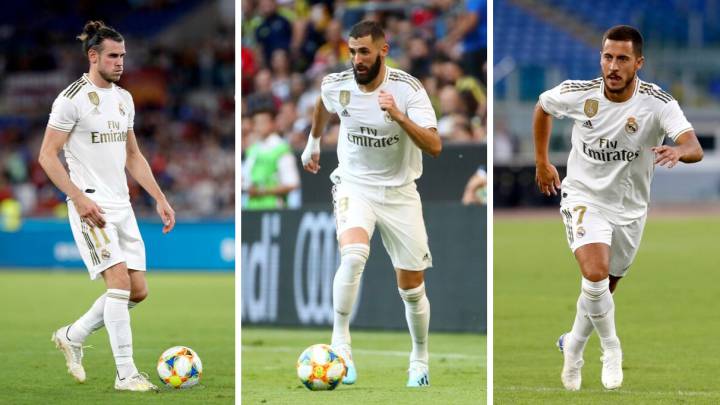 From the BBC (Bale, Benzema, Cristiano) to the BBH (Bale, Benzema, Hazard) via a BBV trial (with Vinicius at the end of last season). Zinedine Zidane sent out his improvised attacking trident today against PSG at the Parc des Princes, a line-up few might have imagined a number of weeks ago. Alas for Real Madrid, the BBH did little on their first competitive time out, with only Bale showing any real attacking threat.
Bale, Benzema, Hazard vs PSG
Gareth Bale was clearly surplus to Zidane's revolution requirements as the new Real Madrid squad was being created. That had suggested that the indispensable Karim Benzema would be flanked by new Galáctico Eden Hazard and, more than likely, Marco Asensio. The young Spaniard's pre-season injury - which will see him miss the majority of the campaign - put paid to that plan, and further drop-outs, plus a collapsed move to China, have seen the Welshman take his chance to impress.
Two goals and an assist in the first two games of LaLiga earned Bale a starting role, meaning that the famous front three under Zidane took to the Parc des Princes field with a simple switch of Hazard for Cristiano Ronaldo. The question was: can this new front three forge a relationship anywhere close to the original's effectiveness? The answer tonight was no.
Behind the front three in the Champions League opener against Paris Saint-Germain we saw James Rodríguez asked to provide the creative spark in the absence of the injured Luka Modric, and the Colombian tried to link up with the forwards when Madrid moved to a 4-2-3-1 formation. James was protected by Toni Kroos and Casemiro, though neither shone.
It appears clear that Zidane wants his Belgian winger to be as close to the opposition goal as possible, even more so than when he shone for Chelsea. Summer warm-up games against Salzburg and Roma showed that there was an immediate relationship between Hazard and Benzema, although this evening that connection failed to produce the goods.
Bale: discarded protagonist
The last time Real Madrid and PSG went head-to-head was on 6 March 2018, when Los Blancos confirmed their passage to the Champions League quarter-finals in Paris. A 1-2 victory was enough but, despite the joyous win, it proved to be the game that left a schism between Zidane and Bale. The Welshman was a substitute, as he had been in the first leg at the Bernabéu, and had shown a distinctly apathetic attitude. The fall out was in no doubt.
Time moves on, however, and that situation has eased with Bale starting and playing 94% of the minutes available to him (he was suspended for the Levante game) this season. Under Zidane he has played only six full matches (18% of the possible total) in the Champions League. In Paris, he returned to the XI aiming to continue closing the wounds between him and Zizou, as well as the fans.
Hazard knows PSG well...
The Ligue 1 giants are a well-known rival for Madrid's Belgian star, although Hazard hasn't had a particularly productive time against them. Before this evening he had scored only three goals in 16 games, all of those in a Chelsea shirt, with one of them coming in a Champions League quarter-final at the Parc des Princes. Overall now his record reads four wins, seven draws and six losses.
...Benzema not a PSG lover
Historically, Benzema has not left the crowd in Paris termbling with fear. He had scored only once in ten matches against them before this evening and that was 13 years ago in the final of the French Super Cup. Since then though, he has switched Lyon for Madrid, and faced them in a single game in 2017-18. It ended goalless.