Atlético's Morata appeal fails meaning striker misses derby
With a chance to take to the field against his old club, the Spaniard will now be watching it from the stands after two yellows against Mallorca.
Álvaro Morata will not play in the Madrid derby against his former club. Following his sending off midweek against Mallorca, Atlético appealed to the competition committee, but on Friday it was confirmed that this had been unsuccessful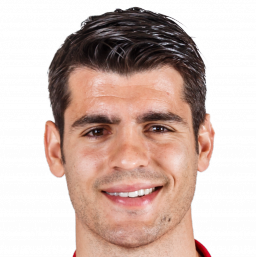 Morata misses Madrid match
The failed bid to get the second of the two yellow cards rescinded means that the striker is suspended for one game, and the club is fined 350 euros. He is the only player that is out of contention from Simeone's squad ahead of the huge clash at the Wanda Metropolitano stadium on Saturday evening.
Atlético wrote to the Spanish FA pleading for them to cancel the booking that came for the incident between their striker and Mallorca's Salva Sevilla, where they squared up to each other and exchanged words. Their attempts to get a yellow card for Savic in the same game overturned was also dismissed.
The committee's decision on Morata can be appealed by Atlético in a final attempt to have the player available for El Derbi. If they do this they would find out the answer on Saturday morning.