ATLÉTICO-REAL MADRID
Madrid derby in the hands of Eden Hazard and Joao Felix
They inherited their jerseys from Griezmann and Cristiano, the boots they fill are huge as Joao Felix and Eden Hazard go toe-to-toe at the Wanda on Saturday.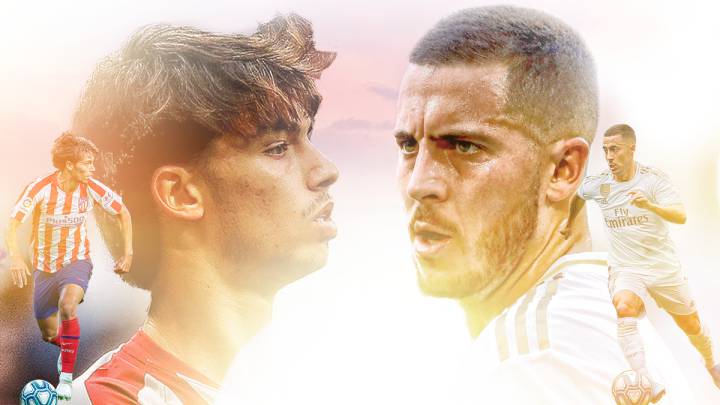 It's the story of two number sevens when Atlético Madrid welcome Real Madrid to the Wanda Metropolitano on Saturday night in LaLiga. The game will rest on the shoulders of two rookies, who are linked by massive summer fees -- €227 million between them -- and the numbers they inherited from their predecessors in Antoine Griezmann and Cristiano Ronaldo. It's a rivalry that goes way back to when El Niño Torres and Raúl squared off at the now closed Vicente Calderon for the first time. Back then, the young Portuguese star was just two years old.
It was the first derby, albeit a preseason one, in New Jersey when the €127 million Atlético paid for Joao Felix started to seem cheap. Zidane has waved away that 3-7 result in that game, stating it was just a preseason friendly, but on Saturday the Portuguese will line out in his first official derby looking to take part in a similar type of dismantling job. He is, along with Vitolo, Atlético's top scorer so far this season with two goals. He is also shooting more than any other Atlético Madrid player with 11 in total, five on target, which equals 1.83 per game. More than his efforts on goals though, it's the unpredictability when he touches the ball, his imagination in possession and the possibilities when the ball is at his feet that excites the most. The absence of Morata means he will be closer to goal alongside Costa up top. When involved in play, he is lethal.
Waiting for Hazard to burst into life
Acclaimed Chelsea star, World Cup third-place winner and the owner of several medals during his Premier League spell, the Hazard that landed in Madrid is missing something. Goals, to be precise. A muscle injury (25 days lost) has hurt his start just when he was getting into the swing of things. In Paris, it was the first game for him to shine, but he was switched off and we didn't get to see the best of him.
At the Pizjuan against Sevilla, we saw more. He robbed eight balls back in a defensively excellent game with hints of what he is capable of moving forward too. He was rested then against Osasuna midweek with an eye on the big one on Saturday at the Wanda. "His future is huge," said Zidane ahead of the game. The future is now for Hazard.
Joao and Eden, the Madrid derby, a test of the two new number 7s.