MADRID DERBY
James and Atlético Madrid: the love story that never was
The Colombian was close to a summer move to Atlético but on Saturday, he lines out for Real Madrid after an unexpected u-turn and a place in Zidane's plans.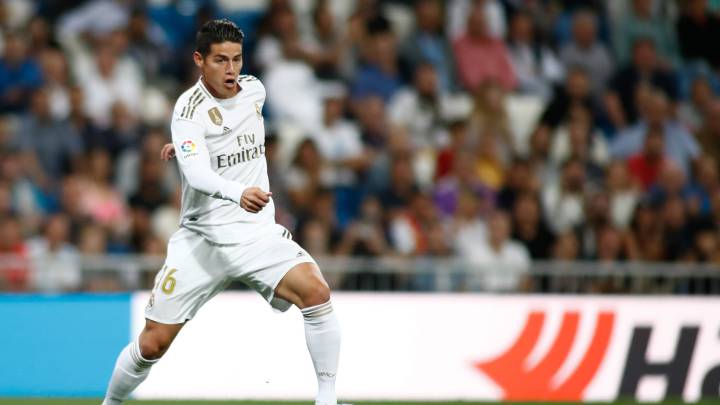 During the summer, Simeone saw James Rodriguez as icing on the cake that was his summer haul. Two months later, he will have to think of a plan to stop the Colombian after he won his place back in Zidane's plans after a summer that looked to be his last as a Real Madrid player. Atlético Madrid and Real Madrid directors met before the New Jersey derby as talks started to cool over the possible transfer of the player. The 3-7 victory for Atlético was the final nail in the coffin of a move that at one point looked like it would get done. There was no way, after that humiliating defeat, that Real Madrid would aid a rival to expediate their own potential collapse.
"It would be very nice for James to play with us," Miguel Ángel Gil Marin said hours before that game, his confidence to speak openly about the matter increasing. "It depends on what the president of Real Madrid says."
Criticism was not in short supply after that game in the MetLife Stadium and it was suddenly deemed out of the question that James would move to a domestic and European rival. Napoli was where they wanted to send James and Real Madrid had their eye on Fabian Ruiz, who they wanted to come the other way. A deal could not be struck, however, and Zidane was forced to welcome the Colombian back into the fold.
A Real Madrid u-turn, back in Zidane's plans
This is football. Having seemingly worn out his welcome under Zidane, he was suddenly back in the starting eleven when an injury crisis hit. "He is one of ours," said Zidane. James went from being the second player Atlético wanted to lure to the Wanda from Real Madrid in the summer - Marcos LLorente was the first - to slowly being more and more involved in the day to day at Valdebebas. And he hasn't just settled silently back into the team. "If we play another games like this, we are stupid," he said after the Paris Saint Germain debacle.
The influence of the 28-year-old at the club is different now, and it's not just been noticed in the dressing room. With Modric out, his place in the starting 11 is almost guaranteed. Against Sevilla, he was one of the driving forces behind the win. He never stopped running and trying to create chances and he did manage to set one up for Hazard, who missed the one-on-one.
On Saturday night, he will not just put a full stop at the end of the summer flirting speculation. He wants to be the architect of a Real Madrid win which will help him further establish himself as one of his side's most important players.