2

1
Messi and Suárez steal the show as Barcelona pip Inter Milan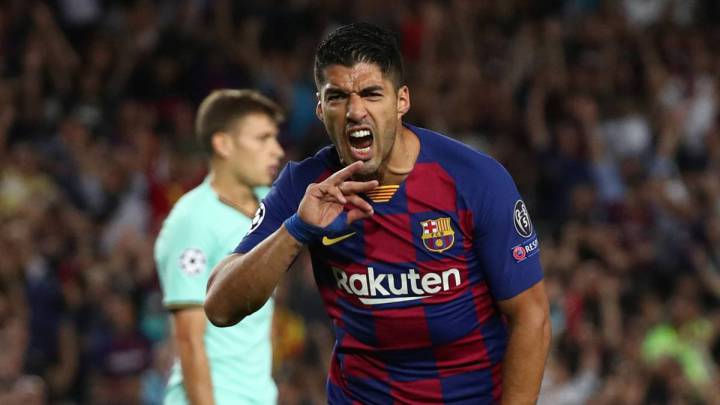 Barcelona vs Inter Milan: as it happened!
Two Suarez goals seals the comeback for Barcelona. Inter dominated the first half but it was Messi and co. who had the last laugh. Excellent game at the Camp Nou on Wednesday night!
We have three minutes of added time.
Dembele with the cross into the box. It's stepped over by Suarez and Messi shoots. Handanovic saves.
Messi with a wonderful run. He plays it to Suarez and his touch takes it past Godin before he finished.
Antonio Conte booked now for something he said.
Game hanging in the balance now. Barcelona push forward.
Alexis Sanchez booked on the bench.
Arturo Vidal for a foul on Barella. He really doesn't think it should have been.
Lenglet fouls Lautaro. Inter finally get a breather. A much needed one too.
Another corner for Barcelona. Worked short and then sent in by Messi. It bounces in front of Handanovic as he grabs it.
Dembele to Semedo. He crosses and Inter somehow clear. This is all Barcelona now.
Inter make their first change. Candreva is off for D'Ambrosio.
Mayhem in the penalty area as Inter can't get a clean shot away and Barcelona can't clear it. They eventually do but some nervoud moments there for the home side.
Dembele with an effort on his right. He sends it just over the bar. Really good effort. Camp Nou fully into this one now as they urge their side on!
Dembele coming on now for Barcelona. Griezmann is replaced.
Inter having to soak up all sorts of pressure now.
Messi plays it into the path of Griezmann and he drives it into the side netting.
Ball into the box by Messi and Suarez is taken out of it. Ref says he was offside though.
Lautaro with a strike that Ter Stegen saves.
GOAL! What a finish that is. Suarez hits it on the volley from a Vidal cross.
Inter want a penalty. Arthur doesn't see Sensi behind him and might clip him. Would have been very harsh and the referee tells him to get up.
Sanchez slides in on Messi and gets a touch on the ball. Looked like a corner but ref says goalkick.
Messi has the ball nicked off his toe by Vidal. He turns and shoots and it's blocked. Griezmann with the low cross. Another cross comes in from the left and Handanovic saves it.
Vidal on for Busquets as Valverde tries to get some control of this game.
Sergi Roberto not having his best game. He gets booked for a foul as Inter Milan counter.
Messi is lining it up though. He hits it and it hits the wall. Out for a corner.
A little too far out for Messi.
Foul on Messi. It's Brozovic who dives in and concedes the free as Messi drives forward.
Sergi Roberto tries to pass to Messi in the box but that's too close for comfort. Inter win it back and Sergi Roberto fouls.
Barcelona starting to push forward now as Inter have to soak up some pressure.
We are back underway for the second half.
Corner taken and it's half-time.
They break again and Semedo gets back to stop it. Lautaro running riot here at the Camp Nou.
Arthur with a really nice run and strike but he hits it over the bar. Nice pass from Messi too. He kicks the ground in anger.
Messi with a free and that's straight into the hands of Handanovic.
Another chance. Sensi crosses and Lautaro heads just wide.
Suarez with a shot that dribbles to Handanovic.
Sensi. He curls it over. Barcelona opened up again!
Cross by Arthur and Handanovic with a big first. Falls to Semedo but he can't connect cleanly. It goes over the bar.
Incredible save from Ter Stegen. Martinez with a bullet header and he somehow gets down to save it. Barcelona under serious pressure.
Referee having a word with Antonio Conte.
De Jong gives it away again. Barcelona recover and keep the ball now.
Messi with a free into the box but Handanovic grabs it.
Inter in again. Barella the man with the shot but Semedo blocks it. Corner but Inter really opening up Barcelona easier and easier as the game goes on.
Inter having much the better of this so far. Conte's side ceding possession but they're in control.
Foul by Semedo on Candreva.
Another goal. OFFSIDE! Candreva about six yards offside on the right.
Another attack from Inter and Lenglet recovers this time.
Another ball into Sergi Roberto and it's over his head.
Yellow for Pique. He dives in on Barella and the ref gives him the yellow. Wasn't as bad as it looked but he turned him upside.
That would have been incredible. Handanovic plays it out when it looked like Barcelona were pinned back. Inter get it up the field really quickly and have Barça chasing shadows. Incredible! But the cross from the right is straight to Ter Stegen.
Sergio Busquets ends up with a shot. Semedo got in around the back but his pullback to De Jong was just behind him.
More danger from Barcelona as Roberto plays to Suarez and he can't control it. Messi plays it to Arthur and then out to Griiezmann.
Semedo looks for Griezmann but it's way too heavy. Barcelona dominating the ball but not in control of the game.
Another golden chance for Inter. Lautaro touches it past Ter Stegen but he just overruns it and has to backheel it backwards where a Barcelona player recovers.
Barcelona back on the front foot. Sergi Roberto with the cross from the right and Griezmann heads it onto the roof of the net.
Inter Milan really playing with fire. They manage to get it out and play it through the middle but Barcelona jump them and win it back.
Another late slide. De Jong the man who dived in this time but he avoids a yellow.
Messi plays inside to Suarez and he tries to lay it off to the Argentine. But it's off target.
They're back in possession, the home side, and looking to break down Conte's side.
Inter looking sharp on the counter but Barcelona sniff them out this time.
And now Griezmann gets a booking for taking Barella out of it.
Lovely football from Inter Milan but Sanchez can't keep the move going as Barcelona recover.
Sergi Roberto gives it away again and Inter Milan try to counter. He is playing on the right after it was said during the summer he was a midfielder now. Desperate times and all but he might not be entirely comfortable there.
An early yellow for Barella. He takes down Busquets with a stamp on the foot. Sore one for Busquets. Could hurt Inter more though.
Semedo to Griezmann and he tries to flick to Suárez but it doesn't work out.
Lautaro Martinez! GOAL! GOAL! GOAL! He breaks free and slots it past Ter Stegen. Ball bobbled around in the middle for a bit and got popped to the Argentine and he beat Lenglet for pace and power to finish.
Barcelona with the first attack and Busquets sends it to Griezmann. He has a crack and Handanovic saves.
The teams emerge onto the field. And we have the Champions League anthem blaring out over the whistles at Camp Nou.
Two of the players rested during the week also didn't play in the first game, which was a goalles draw. They should make a massive difference tonight.
There has been some speculation about a riff between the players and at board level at Barcelona. Pique said after the Getafe game that they know who writes certain articles without their names actually being on them as a dig at the board at Barcelona.
The article in question was one by Xavier Bosch in Mundo Deportivo where he said the players had too much power at the club.
Pique will reportedly meet at the end of this week to sort things out, or at least try to.

Godín and Barella return to the team that beat Sampdoria 3-1 at the weekend. Since Conte came in, they have played six in the league and won six in the league.
Dembélé is on the bench for Barcelona but Aleña one of the players who didn't make the cut along with Firpo, who is injured.
Inter Milan XI: Handanovic; Godín, Skriniar, De Vrij; Candreva, Barella, Sensi, Brozovic, Asamoah; Alexis, Lautaro.
It is just the second time Messi, Griezmann and Suárez have started together after the league game against Villarreal. It's the first time in the Champions League as the trio try to build a rapport together.
Semedo will presumably play on the left with Sergi Roberto on the right.
Barcelona XI: Ter Stegen, Roberto, Piqué, Lenglet, Semedo, Busquets, Arthur, De Jong, Griezmann, Suárez, Messi.
Messi starts, it says here! He went off against Villarreal and said "I can't break" as he felt muscular discomfort. He returns tonight.
He has Lautaro Martinez and Alexis Sanchez to call upon with report suggesting it is those two who will lead the line.

Hello and welcome to our live coverage of Barcelona vs Inter Milan in the Champions League. Inter drew their first game 1-1 with Slavia Prague and Barcelona also drew, 0-0, with Borussia Dortmund. Kick-off is at 21:00 CEST from Camp Nou.
.