Fede Valverde: "I try not read what is written about me"
The media hype surrounding the young Real Madrid midfielder has intensified after his display against Granada. But Valverde says he is not reading any of it.
After his stand-out performance for Real Madrid against Granada on Saturday, Fede Valverde has already landed for international duty in his native Uruguay, where he spoke to the media about the hype around him after the Granada game, his change in character, working with Zinedine Zidane and the influence of Toni Kroos.
Valverde comments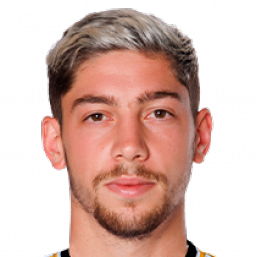 Staying grounded after recent media attention: "You have to know how to keep your feet on the ground. It serves as motivation to work and keep improving and learning from my team mates. You don't have to read a lot to grow up. I try not to read what is written about me. It's nice that they speak well of you, but you have to know how to stay grounded."
His place at Madrid: "I have to follow the line of my teammates and not stay below any of them. I have to be one of the squad because it led me to have another personality, another character on and off the field. At the beginning it was shy and I had trouble having a conversation with my other team mates."
Position on the pitch: "I think anywhere in the centre of the field. Zidane puts me at 5 or 8. There I feel comfortable, safe when playing and with the desire to attack the opponent's area. He asks me to give my best, what I am doing in training. When a coach gives you that confidence, it helps you a lot."
Kroos: "My team mates help me a lot, they advise me and people like Kroos, who is an idol and an example to follow for me. That he approaches me and and advises is something invaluable. He helped me a lot and I appreciate that."
Playing for Madrid: "Wearing the Madrid shirt is a dream for any player in the world, and serves as motivation to continue improving, strengthening the head and learning."