Messi explains why he was close to quitting Barça in 2013-2014
Lionel Messi has admitted that he was on the verge of leaving Barcelona five years ago and how he feared rivals Madrid would sign Neymar in the summer.
Lionel Messi has spoken about how he feared Real Madrid would sign his former team mate Neymar in the summer, during which Barcelona and their LaLiga rivals were in fierce competition to snap up the Brazilian star from PSG.
The battle to sign the 27-year-old winger was the subject of intense media speculation over the summer transfer window, but in the end Neymar was unable to secure the move away from Paris as he had wanted.
Messi, who shared a dressing room with Neymar during his time at Camp Nou, has spoken about this summer's events in an interview with Catalan radio channel RAC1.
"I sincerely thought for a moment, especially in this market, that if he didn't come here he would go to Madrid because I thought he really wanted to leave," said the Argentine striker.
"He had said it himself, he wanted to change, to leave Paris. And I thought that Florentino [Perez] and Madrid were going to do something to take him away."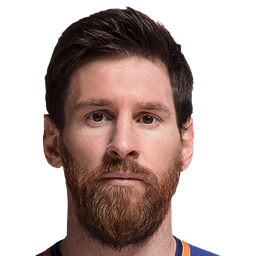 Leaving Barcelona
The 32-year-old star also spoke about how he came close to leaving Barcelona in 2013/2014, when he was at the height of his troubles with the Spanish tax authorities over unpaid taxes.
"There have been times when I have ended up tired due to a lot of circumstances. There were several times, especially in 2013 and 2014, when I had the problem with the Treasury," he recalled.
Messi explained how difficult this period was for him and his family and his frustration at what was being said about him in public – circumstances which almost led to him calling it quits in Spain.
"The best thing of all was that my children were small and didn't know anything, but we had a bad time. At that time I had it in my mind to leave, not because I wanted to leave Barça, but because of what was going on."
Dembélé red card
Messi was also asked about the controversial red card handed to team mate Ousmane Dembélé  for comments made to the referee ("You are very bad") late in the 4-0 win over Sevilla last Sunday.
The Rosario-born player reiterated what he had tried to explain to referee Mateu Lahoz on the pitch, saying that Dembélé's poor level of Spanish means he could not have been quite aware of what he was saying.
"It is very difficult for him to have been able to say it, because it is difficult for him to put together sentences and speak well enough to speak clearly, I wanted to say that [to the referee]," Messi said.
"The boss [Barcelona coach Ernesto Valverde] supported me with what he said at a press conference. But it's true, we were surprised that [the referee] understood it so clearly because the truth is that Ousmane still has a hard time speaking Spanish."