Zlatan statue creator denies wrongdoing over monumental errors
Creator of the recently unveiled Zlatan Ibrahimovic statue has denied he is to blame for the monumental typographical errors on the accompanying ground plaque.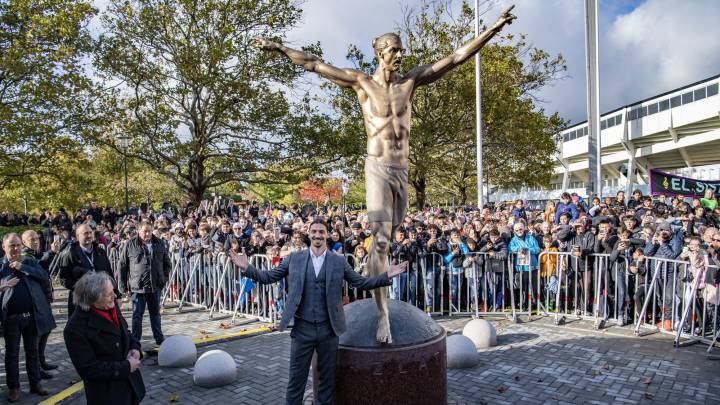 Zlatan Ibrahimovic was the latest footballing legend to be immortalised with a commemorative statue, as the Swedish player unveiled the bronze work in his hometown of Malmo last week.
In comparison to some of the sculptural disasters that have been made of other players in the past (Cristiano Ronaldo's infamous bronze bust at Madeira airport springs quickest to mind), Zlatan's statue could be deemed a fitting and well-made tribute to the former Ajax, Barcelona and Inter Milan striker.
Typographical errors in Zlatan statue
But it turns out that while the statue itself looks to be relatively flawless, some monumental typographical errors were made on the ground plaque that accompanies the piece.
The plaque makes reference to the titles won by Ibrahimovic during his illustrious career, which have included French and Italian league titles, as well as the Champions League and FIFA Club World Cup. However several typographical errors have caused outrage in Sweden, namely:
- "FIFA Club World Gup" has been inscribed instead of "FIFA Club World Cup"
- "Ligue !" has been mistakenly written instead of "Ligue 1" in reference to his French league win with PSG in 2016
- The plaque also cites his Champions League win with PSG in 2013, but "Trophee des Hampions" has been inscribed instead of "Trophee des Champions"
- Causing further embarrassment: the plaque also cites Zlatan's 2005 and 2006 Serie A title wins with Juventus, despite the fact the Turin club were effectively stripped of those titles and relegated to Serie B due to the 'Calciopoli' match-fixing scandal.
Sculptor denies wrongdoing
These typos remained despite the fact that an earlier error had been corrected before the statue's unveiling, in which "FZ Internazionale" had been written instead of "FC Internazionale", in reference to Inter Milan.
Speaking to Swedish outlet, fotballskanalen, the statue's creator, Swedish artist Peter Linde, has denied wrongdoing, saying he merely forwarded to the stonecutter the Swedish Football Association's email containing the text to be included on the plaque.
Linde also claimed that the errors were not a big deal and will be fixed soon.