Seven issues for Zidane to address at Real Madrid
The performance against Mallorca was another example of the shortcomings of Zinedine Zidane's side as they prepare for the Galatasaray test.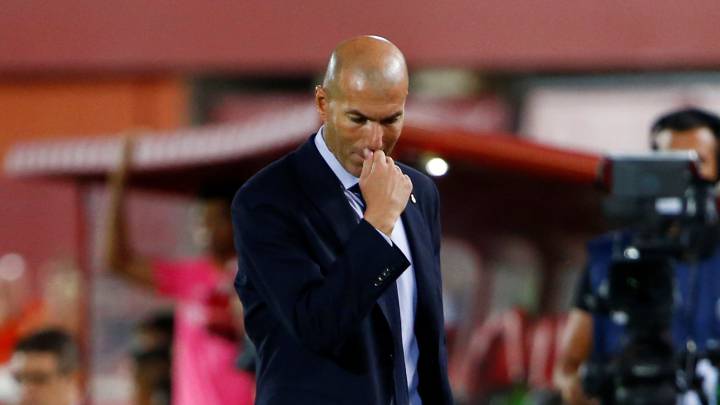 Real Madrid let their LaLiga lead slip with a 1-0 defeat away to Mallorca on Saturday. As Zidane prepares for a crucial away trip to Istanbul in the Champions League, what does the French coach need to do to turn things around? We look at seven areas where 'Zizou' needs to address issues.
Scoring. Madrid failed to hit the target yet again in Mallorca and that is now three games of 11 the LaLiga matches where the Bernabéu side have failed to score. This is a stark contrast from the Zidane side with Cristiano on-board where Madrid scored in 73 consecutive matches. 18 goals in 11 league games with an average of 1.6 goals per game is down on last year's average of 1.8.
Injuries. Former fitness coach Antonio Pintus moved to Inter Milan but replacement Grégory Dupont is still having issues with players succumbing to muscular injuries. Of the present 20 injured players this season 75% have been due to a muscular nature.
---
Read also: No overnight fix to Vinicius shortcomings, warns Valdano
---
Benzema, lone marksman. The French striker is the only out and out in-form goal scorer at present having bagged six goals in 882 minutes of match action (one goal per 147'). Bale and Casemiro have both bagged two goals apiece. New season signing Luka Jovic who moved to Madrid for a fee of 60 million euro and who bagged 27 goals last season for Eintracht Frankfurt failed to carve out a shot on goal in over an hour of action against Mallorca and has been a major disappointment so far this season.
Lack of midfield depth. Madrid have six recognised midfielders with Isco and James more offensively focused. 34-year-old Modric needs more spells of rest and Valverde, James and Casemiro are normally subjected to long trans continental trips during each international break. Zidane is still pushing for the club to address this matter with Paul Pogba still high on his 'wanted list'.
Courtois lacking luck. The Mallorca goal was a fine effort from Lago Junior and not a fault that could be laid at the Belgian's door, but the former Chelsea stopper clearly lacks that bit of luck between the sticks that both Iker and Keylor Navas seem to have had. The Belgian keeper has already conceded 12 goals in 9 games and is causing minor doubts for the Bernabéu faithful.
Waiting for Hazard. The former Chelsea player has yet to explode in the white Real Madrid shirt despite breaking his goal scoring duck in the 3-2 league win over Granada. Injury has hampered his adaptation and the Belgian was missing on Saturday due to the birth of his fourth child. Zidane needs the best from the winger in the Galatasaray match.
Zidane self-doubt. The second spell for the Marseille born coach has yet to deliver the magic and success from that of his first spell with an incredible three Champions League hauls and one LaLiga title to his name. Upon his return, Madrid have won 10 out of 20 LaLiga games with his predecesor Solari recording a win ratio of 70,6%. 'Zizou' is still looking for his best system and has been tinkering with a 4-3-3, 4-4-2 and 4-2-3-1. His side looked disorientated at times at Son Moix and this is something the coach needs to resolve and soon.