Real Madrid: No overnight fix to Vinicius shortcomings - Valdano
In the wake of Real Madrid's defeat to Real Mallorca, Jorge Valdano offered his thoughts on Vinicius, Isco, Luka Jovic and Thibaut Courtois.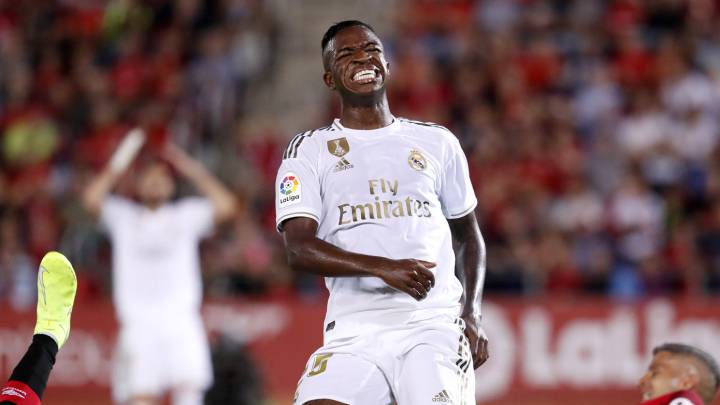 Jorge Valdano has warned that there is no quick fix to the shortcomings in Vinicius Junior's game, amid criticism of the Real Madrid winger's lack of end product after Saturday's LaLiga defeat to Real Mallorca.
Speaking on Spanish radio on Sunday, former Madrid coach Valdano also offered his thoughts on Luka Jovic, Isco and Thibaut Courtois, three other players whose performances for Los Blancos have come under the microscope.
"Madrid's display against Mallorca was poor"
"I came away from the win over Granada with high hopes," Valdano told Onda Cero. "It seemed like Madrid had got themselves into a position to perform more consistently. [Fede] Valverde stepped up, [Luka] Modric was back. That day, they looked like a well structured side and produced some really promising moments.
"However, their display against Mallorca was poor. Zidane placed his faith in the players who had been working with him during the international break, but it didn't work. Jovic is struggling to gel with [Karim] Benzema. Isco needs to get himself back in form and having the kind of impact that befits his talent.
"It's not something you can pick up overnight"
"What Vinicius needs to add to his game isn't easy to learn - it's not something you can pick up overnight. [Thibaut] Courtois can't be blamed for Mallorca's winner, but it's also true that every time he faces a shot it's a goal; things aren't going his way and his confidence is dropping."
Crunch Champions League clash up next for Madrid
After relinquishing top spot in LaLiga as a result of the 1-0 defeat at Son Moix, Madrid now face Galatasaray in a must-win Champions League game in Istanbul on Tuesday, having picked up just one point from two group-stage games so far.