Zidane acknowledges Hazard has changed picture for Vinicius
Zidane praised goalscorers Rodrygo, Jovic and Benzema after the 5-0 rout of Leganés and said that omitted Vinicius must "continue working" now that Hazard is in the picture.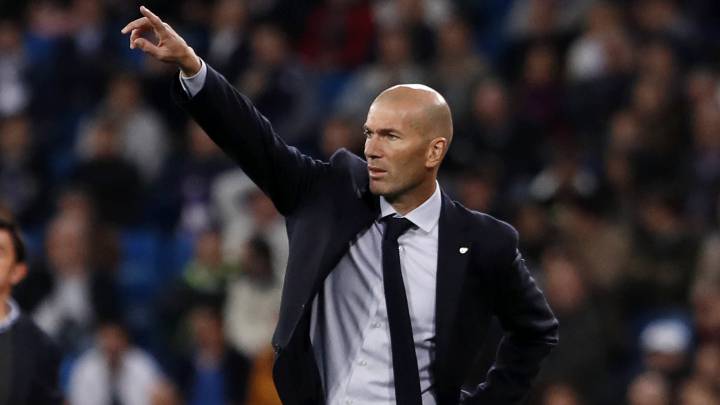 Real Madrid pulled off a convincing 5-0 victory over neighbours Leganés in a fine display at the Santiago Bernabéu on Wednesday night to keep themselves second in LaLiga and just one point off leaders Barcelona.
But despite the emphatic score-line coupled with a rare clean sheet, coach Zinedine Zidane said it was not his side's best performance of the season to date.
"Best game of the season? I don't think so but in the end it was an important match for us. We started well and that facilitated the rest of our game," said the French coach, whose side has so far suffered just one loss in 10 games in LaLiga.
"I'm happy with the result: scoring five goals and keeping our goal at zero … We have not scored five goals for a long time. So you have to be happy. Everyone can give their opinion. Some will think it's the best game. Not for me."
Milestone goals for Rodrygo and Jovic
Zidane also expressed his happiness for young new recruits Rodrygo Goes and Luka Jovic, who opened and closed the scoring on a thoroughly satisfactory night for the home crowd.
The opener was Brazilian teenager Rodrygo's second Madrid goal and first at the Bernabéu, while substitute Jovic put an end to the long wait for his debut strike to cap off the 5-0 win in extra time.
"I'm happy for both of them because for Rodrygo it was his first goal at the Bernabéu. He is 18, you don't have to be older to score here," said Zidane.
"He has personality, little by little he is getting better in the team and I'm glad for his goal at the Bernabéu. And Luka is happy because he needed that [goal] and, although he does not play much, it's important [to make an impact] when he has minutes replacing Karim [Benzema]."
Benzema contribution
The Blancos boss also praised goal scorer and veteran striker Benzema, who, with seven goals and four assists, has been arguably Madrid's most valuable player so far this season and serves as a guiding figure to his younger strike partners Rodrygo and Jovic.
"As always, Karim does not change much, it is important that he scores a goal because he needs that as a number '9', but he contributes much more and makes others play and makes them better," said Zidane.
Vinicius exclusion
Rodrygo enjoyed a second consecutive Madrid start following his first call up to the Brazil squad last week. Meanwhile, his fellow young team mate and compatriot Vinicius was not included in the squad for the Leganés game, with suggestions he has fallen behind Rodrygo in the pecking order with both Zidane and Brazil coach Tite.
But the French coach stressed that nothing much should be read into Vinicius' exclusion and assured the 19-year-old, who also missed out on the Brazil squad last week, will have his opportunities. Although he acknowledged the picture has somewhat changed for the Brazilian winger this season with the arrival of Eden Hazard.
"Nothing has happened … This time he has to sit it out, but it means nothing. He matters the same as the others," he said.
"What you have to think is that maybe last year Hazard wasn't here. Now Hazard is in his place. He must continue working, I will continue to count on him, he knows that we are going to count on him. Of course it is a bit difficult for him to be left out but that is the case for everyone. Those who are left out will be pissed off."
Vinicius will no doubt be hoping for a recall to Zidane's squad as Madrid host Betis on Saturday before a third consecutive home tie against Galatasaray in the Champions League on Wednesday.