REAL MADRID
Real Madrid: Vinicius at a crossroads after Rodrygo emergence
The Brazilian doesn't want to leave on loan but what happens between now and Christmas will decide whether he stays at Madrid or leave for the last five months of the year.
Rodrygo's hat-trick against Galatasaray on Wednesday was a blessing for Real Madrid. In the Brazilian, they have found a player to build the future around along with other young signings the club have their eye on (Mbappé remains high up the list). But it's a blessing that has side effects for other Real Madrid players with the one most affected being his compatriot Vinicius and friend from Brazil's under-age teams.
The eruption of Rodrygo reduces Vinicius' options and makes like more complicated for him. It was already complicated enough with the arrival of Hazard, which is something Zidane has already nothing: "Vinicius is the same at the rest. What you have to remember is that last year, Hazard wasn't here. Now, Hazard has his place and he has to keen working. We will keep relying on him." The translation of that is: Vinicius will only play in his correct position, which is the left, and will only play when Hazard needs rest. He needs to take advantage of the limited opportunities he is offered, something he hasn't done either. He started against Mallorca and played well but lacked the finish touch, his achilles' heel, with Madrid losing the game.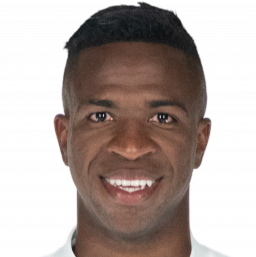 Rodrygo makes the right wing his own
Vinicius has to find the minutes on the right that he can't and won't find on the left. This seems a much fairer fight with Bale out injured along with James. It is, or at least was, between Rodrygo, Vinicius and Lucas Vazquéz. But that's when Rodrygo came in and adapted to the position with his five goals in 370 minutes proof of that. Zidane has decided that, right now, his attacking trio is Rodrygo, Benzema and Hazard.
 Zidane has not named Vinicius in two of his last three squads and he has only played 430 minutes of the 1,350 he has been available for so far this season. He hasn't started since October 19 either against Mallorca and has only registered a goal and an assist. The 19-year-old is at a crossroads but doesn't want to leave on loan in winter even though there is sufficient evidence to suggest he will have to suffer to be as important as he was last season.