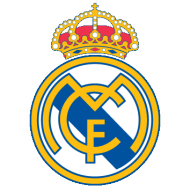 4
Benzema 16', 28' (p),
Sergio Ramos 19' (p),
Federico Valverde 60'
Real Madrid shine in the rain in Eibar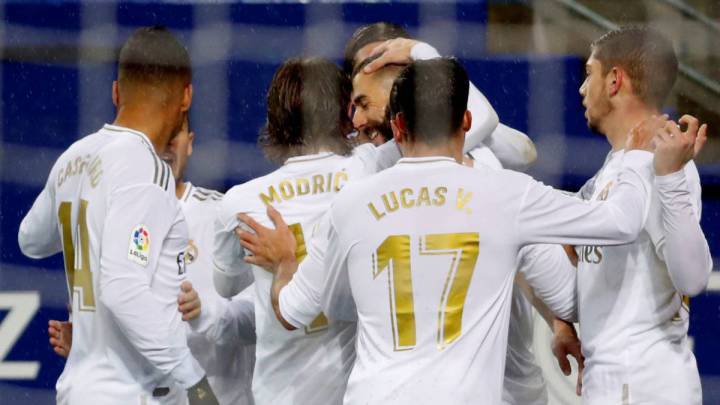 Eibar vs Real Madrid: as it happened!
GAME OVER! Quite an easy one for Madrid in the end. A night to forget for Eibar. Benzema at the double with Valverde scoring along with Ramos from a penalty.
Isco whips a pass across to Carvajal but he handles it as it bounces up and catches him out. Free for Eibar but this one has been over for a while. Everyone thinking about putting the kettle on at this stage.
Exposito with a strike that goes close. It's out for a corner instead though as Eibar can't buy a shot on target here.
Ramos heads out for a corner as Eibar push for a late consolation. Not on Ramos' watch.
Brahim comes on for Madrid. Lucas Vazquez goes off.
Vinicius to Benzema and he plays to Vazquez. He gets bundled over in a heap as the ball is put out for a corner.
Ball came into the box and Vinicius heads it back towards goal. Saved and Eibar are lucky that wasn't 0-5.
Vinicius with the best dribble he has done in a while followed swiftly with the worst dribble we have seen from him in...a while.
Isco with a kick on the back of Arbilla's leg after giving the ball away. Not the greatest start.
Fede Valverde off for Isco. Hazard off for Isco.
Isco is ready to come on too.
Vinicius is warming up now as he gets his instructions from Zidane.
Inui launches one over the bar. Free came in and Ramos half-cleared. Eibar reeling here and could do with a goal to take the sting out of this one.
Benzema takes the ball on the left and controls it. He bends it well over as he goes in search of his hat-trick.
Valverde. That is an incredible finish from Valverde as he blazes home from the edge of the box. Modric with the pass and Dmitrovic has no protection from his defenders. 0-4.
Ball across to Benzema as Dmitrovic hesitates but recovers and grabs it.
Eibar have really improved here. Orellana tries to round Mendy but it's out for a corner.
Sergi Enrich heads the ball down onto Carvajal's hand and Eibar want a penalty. VAR has a look but says NO PENALTY.
Casemiro tries to see the ball out for a goalkick but it's no free as he is bundled over. He tried to play for it and got nothing.
Orellana with a nice cross with a number of Eibar jerseys in the area waiting. Headed out by Madrid.
Ramos puts it out for a corner.
Lucas with a lovely little chipped cross into Benzema. He takes it down but finds himself in an awkward position as he backheels it to a teammate but Eibar recover and clear.
Real Madrid continue to keep Eibar at arm's length. Enrich caught offside to end another attack for the hosts.
De Blasis dummies Mendy and curls one wide with his left foot. One of Eibar's best chances but it was still well over the bar.
Hazard cuts inside and dodges a couple of tackles. He drives it wide as it takes a nick off an Eibar player.
We are back underway and the rain has turned to sleet and almost snow.
Eibar have improved but I'd imagine Real Madrid are thinking about their cups of bovril at the break.
We will have three minutes of added time.
We are approaching at half-time. Eibar with a free now from the right. Ball comes in and Escalante hits it wide.
He throws it out a Modric goes down and grabs his ankle. He is okay.
Dangerous ball into the box and it's headed out by Madrid. Ball comes flying in from the left and Courtois grabs it.
Eibar with a couple of blocked shots in a row. Madrid defending well and haven't given up any chances in their penalty area.
Benzema blazes one wide. Well, it looked wide by Hazard saves it. Madrid again on the attack.
He is back up again after that and Real Madrid on the attack again.
Carvajal jumps up after being clattered in the box as Inui forces him to defend. Inui curls one wide and Carvajal collapses back on the ground.
Not a bad ball into the box from Angel as Enrich looks to get on the end of it. It's a big Belgian that reaches it first though as Courtois slides out to collect.
A very dangerous cross from Carvajal nearly catches Dmitrovic out as he taps it over the crossbar. That could have been dropping into the goal! Corner comes in and Eibar have to defend again before it's sent wide.
After half an hour, it's a matter of how many Madrid can score here.
Lucas Vazquez gets hauled down now and we have another penalty. Cote leaves his leg trailing. Easy decision for the referee.
This might be a handy win for Madrid but it's also the best performance of Hazard's early Madrid career.
Best Hazard action in a Madrid jersey. He nutmegs a defender with a backheel, runs on, rabonas the ball into the box and Dmitrovic saves.
Nice move from Eibar as the ball get whipped in and Sergi Enrich can't control it. Out for a goal-kick. Much better from them but still not convincing.
More action as Dmitrovic comes off his line and Hazard taps it past him and goes down. Ref says no free, which is good for Eibar and the goalie, because if he did it would have been a red too. Ball rolls harmlessly wide.
Worth a try from Escalante. He lets fly from distance but it never troubles Courtois even though he dived.
Ramos rolls it home. No Panenka but he sends Dmitrovic the wrong way. 2-0 and all too easy for Madrid so far.
Penalty. Hazard is clipped as he cuts inside the area. De Blasis leaves his foot in and Hazard goes over. No doubt.
Real Madrid in complete control of this one.
BENZEMA! That early pressure pays off. Fede Valverde with a run into the box, he loses it and it eventually makes its way out to Benzema as he slots home from a tight angle. 0-1.
Sergi Enrich gets a little frustrated and leaves Ramos on the ground. He was fighting for the ball and just pushed the defender over. Nothing in it but Madrid win it back.
Mendy gives the ball away and Eibar get to try and attack. They've been under the cosh for the first 15 minutes. Long ball into Kike and he lays it off.
Another ball into the box. It's Mendy now and Benzema has it nicked off his tow by an Eibar defender. Out for a corner.
Madrid attack now with Benzema down the middle. He plays it out to Hazard, who whips it back inside. Benzema forces an excellent save from Dmitrovic. Madrid all over the hosts so far.
Escalante eventually gets up and goes off for more attention although he seems to be okay now.
Collision between Mendy and Escalante as the Madrid player passes the ball off and then clatters into the Eibar player. Quite clumsy but nothing more. Escalante remains down. If Mendy hurts himself, Real Madrid have very few options on the bench.
There's another ball into the box and cleared by Eibar. They can't get to grips with Madrid at all here to start and need to settle down or we will have a very early goal!
More pressure from Madrid as Vazquez drives into the box and Eibar get it away.
Madrid have started quite well with Mendy on the ball plenty. Benzema takes a ball down over the top and drives it wide of the post. Offside flag came up late but not a bad chance.
Hazard down the left and Mendy overlaps. His cross is way to deep for Vazquez and it's out for a throw.
We are underway! Let's see what this new(ish)-ook Real Madrid can do and whether Eibar can improve on their recent performances.
Two captains up for the toss now in a very rainy and cold Ipurua.
We are nearly all set at Ipurua. Real Madrid looking to retake their lead at the top of LaLiga. Real Sociedad are currently top after playing and drawing with Leganés on Friday night. They have 23 points, Madrid have 22.
Eibar XI: Dmitrovic, De Blasis, Arbilla, Bigas, Cote, Orellana, Escalante, Diop, Inui, Kike García, Sergi Enrich.

Still no Vinicius despite being called up by Zidane. Rodrygo will probably be first off the bench, you'd think. Vinicius is at a crossroads at Madrid and needs a good two months to avoid being sent on loan in January.
Plenty to chew on with Zidane's team selection. Mendy starts in place of the injured Marcelo - makes sense. Kroos is replaced by Modric and Vazquez is played in Rodrygo's place.
Real Madrid XI: Courtois; Carvajal, Varane, Ramos, Mendy; Casemiro, Modrić, Valverde; Lucas Vázquez, Benzema, Hazard.


Hello and welcome to our live online coverage of Eibar vs Real Madrid in LaLiga! Ipurua is the venue for the clash, which kicks off at 18:30 CET.
.