Doubted Zidane was right after all
At the lowest point, he promised light at the end of the tunnel, and with 39 days having passed between Brugge and Eibar, it seems he may have been correct.
In and around Real Madrid, it was never completely clear if manager Zinedine Zidane was just buying time for himself and his players during a period of the season in which goals were hard to come by, or if he was just showing his extreme sense of optimism. The early October afternoon 4-2 win over Granada, saw his team flirt with disaster again. A surreal penalty given away by Areola brought the game to a disturbing 3-2 position, one that almost resulted in catastrophe. In a storm of doubt, Zizou could somehow see the light.
Zidane seeing the Madrid light early
"I will always be positive," Zidane said back then. "We are better than a month ago and we are going to improve more, for sure."
In what seemed like a comment far connected from reality, the recent 6-0 mauling of Galatasaray in the Champions League followed up with a 0-4 undoing of Eibar in the Basque rain, have given a reason for the manager to feel rather smug going into the November FIFA break. Zidane was right after all, and this Real Madrid is a different beast.
As well as the performances that we see with our eyes, the statistics back them up too. Thibaut Courtois is the undisputed goalkeeper; the side's intensity has returned; Karim Benzema appears more deadly than ever. And now the doubts have moved more in the direction of the Wanda Metropolitano and, to a lesser extent, to the Camp Nou.
"I like difficult situations, as they bring out the best of your personality," said the Marseille-born coach in Istanbul, with rumours of a José Mourinho return filling the air. He saw his side come away with a single-goal victory after going down by the same scoreline in LaLiga just days before. "After Mallorca, we had to work more," he knew.
Zidane's 39 steps: from Brugge to Ipurua
It feels like there has been a turn of 180 degrees in the last month or so. From "we had never played 45 minutes like this ..." from an angry Zidane after the 2-2 disgrace against Brugge, to "the first half in Eibar was perhaps the best since I returned," on Saturday in Ipurua.
The time between those two matches has been only 39 days. Just over a month in which only the night in Mallorca can be seen as a real disappointment, with a Betis draw thrown in. And we have seen a change in what Zidane and his assistant David Bettoni have done too with squad rotation kept to a minimum. The same eleven that started in what was described as a 'final' in Istanbul began in three consecutive games, something unheard of in this campaign before. Luka Modric was pushed to the bench and the likes of Valverde and Rodrygo were given their chance to shine, which they duly took.
Madrid's intensity has returned...
"We have changed things that the gaffer asked us to, such as intensity..." These were the words of young Valverde in Eibar. That was, of course, the result of a process that had begun much earlier. All across the pitch there were players fighting to get the ball back for Los Blancos to remain in control. Rodrygo, at just 18 years of age, recovered the ball five times against the Turkish side. Both Istanbul and Eibar were a culmination of focused effort. In Turkey, 75 recoveries, in Ipurua, 69. These were the two highest of the season and, although Madrid will face tougher opponents in the weeks to come, the change does not feel like a coincidence.
...and from the start
Zidane has been insisting both internally and outwardly that his Madrid side cannot start on the back foot, something they have been guilty of too many times. The players have taken note and have been working on this at Valdebebas. Son Moix was the last time the Frenchamn complained publicly. They had been conceding early goals that pushed games away from them. That goal by Mallorca's Lago Junior in minute 7; that of Brugge in the ninth; and that in Paris inside 15 minutes. Now it is a different story. Five games, five clean sheets and a formula that the coach is repeating almost obsessively.
"When we go out strong and are winning in the first half hour, our opponent leaves spaces that we can take advantage of," Dani Carvajal expressed last Saturday.
Hazard protection
Belgian winger Eden Hazard was brought to Madrid as the man to help fans get over the loss of Cristiano Ronaldo. But it wasn't until the game against Eibar that they got to see that player that shone for Chelsea and continues to do so for Belgium. Hazard dribbled past his opponents on seven occasions, his best return since the move to a white shirt, and a factor in this has been Zidane's gentle hand, protecting him as much as possible.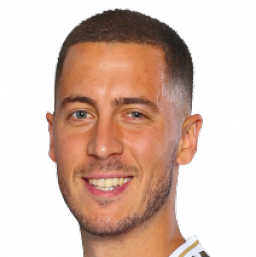 "He also cost me at the beginning," the coach has said, referring to the forward's slow start to life in Spain. And then when he missed an open goal at the Ali Sami Yen stadium he shrugged it off: "Eden normally puts that in." Zizou has weathered the storm over the shape and form of his new ´galáctico´, and now it looks like he is starting to reap the fruits of his, and the player's patient labours.
Valverde is key
There is a simple new equation being written in Chamartín: Real Madrid plus Valverde equals victory. It may not be a fullproof calculation for future enagagements, but with a goal against Eibar to celebrate him becoming a father, and an omnipresence on the field to support the role of Casemiro, the results and performances are coming hand in hand.
With El Pajarito on the field, Los Blancos have scored 25 goals and only conceded four. He has arguably become the hinge that Zidane has been looking for to bring balance to the side.