Gareth Bale's two sides: the Real Madrid vs Wales comparison
Since 2013, the year in which Real Madrid brought in their Welsh Galáctico, Gareth Bale has represented his country more than he has his club.
In every international break that comes around the feeling grows that Gareth Bale, distressed by his routine with Real Madrid is freed from it all by Wales. The apathy he appears to show for his club immediately switches to a commitment to his national team, one of his top priorities along with golf and, of course, his family. And the data shows this: since he arrived at the Santiago Bernabéu he has played 51.8% of the minutes available to him for his club and 65.4% for his country.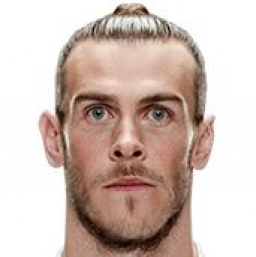 Bale's Wales commitment
There are two statistics that, if not perfectly defining the footballer, at least provide us with an appropriate photo-fit of him. Out of Bale's top hat many surprises have emerged: from his thoroughbred sprints down the line to his Hollywood-esque bicycle kicks. But all too often his magic wand goes missing. Madrid, who paid 101 million euros for him in 2013 with ambitions to turn him into a true world superstar, have barely been able to enjoy what he could have brought with him. The 17,162 minutes he has been on the pitch is from a total of 33,120 due to injuries and other related problems that have arisen.
Gareth Bale since joining Real Madrid in 2013
Games
Minutes
%
Goals
REAL MADRID

238

17,162

51.8%

104

1 per 165 min.

WALES

36

3,298

65.4%

22

1 per 150 min.
In comparison, Wales, without the need for a colossal investment, have reaped more benefit, with him featuring in 3,298 out of 5,040 possible minutes. The records also show a more prolific Bale for his country than for Los Blancos. In six seasons, plus the start of the 2019-20 campaign, Gareth has averaged a goal every 165 minutes for his club, and one every 149 minutes with Wales.
From Wales to the treatment table and back
The perception, especially looking at the events that have transpired over the last month and a half, is that Bale has put all of his footballing eggs into the Welsh basket. From FIFA break to FIFA break he generally finds an acceptable level of fitness, while in between struggles to be ready for club duties. This is the reverse of what we normally see from many top players.
The best example of this is in the most recent spell. Under returning manager Zinedine Zidane, the forward has only completed 41.4% of the minutes played by the team, but this has not prevented him being present for the Dragons. He picked up an injury last time out for his country, limping for the final stages in the Croatia game, and has not been seen since in a white shirt.
The Valdebebas treatment room is as common a place to find the Welshman than out training with the squad. For 28 days he worked on his recovery, missing six games in the meantime. In spite of this, no medical reports were issued, due to legal action on behalf of the player, and then came the surprise news (or perhaps not such a surprise) on Monday, that he had trained normally under the watchful eye of Ryan Giggs.
with the rest of his compatriots we see the other side of Bale, something almost unprecedented in Madrid. Cheerful, with a very close relationship with his teammates, and clearly having some fun in front of the cameras present during the session. Los Blancos' number 11 confirmed on Tuesday that he was fit if he was called upon, with no further information about any lingering niggles revealed. There is no doubt that he is a key figure in this Welsh team that has seen so much relative success with him in their ranks over recent seasons, and his focus on trying to help guide then to Euro 2020, which is looking complicated.
And while back in the Spanish capital Zidane appears to have found a recipe for success without his Welsh star, eyes are now very much fixed on finding a viable solution for everyone in January.