Casillas: What if Cristiano Ronaldo wins the Ballon d'Or...?
Ahead of December's Ballon d'Or gala, Real Madrid and Spain great Iker Casillas has questioned the consistency of football's awards criteria.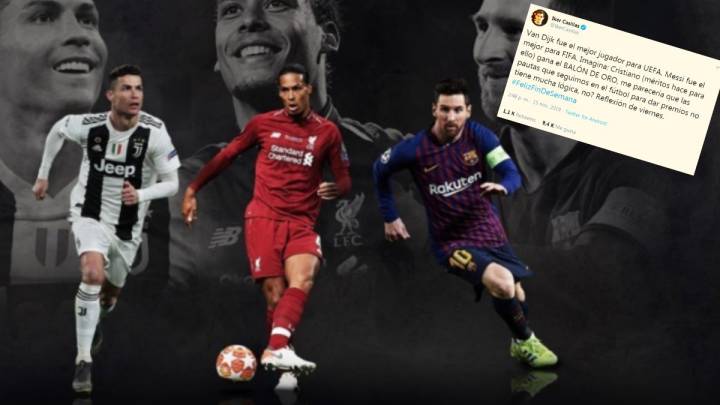 Iker Casillas has questioned football's individual awards, flagging up what he feels may be a lack of consistency in the process by which their winners are chosen.
Van Dijk, Messi... Cristiano? Casillas braced for three different award winners
After Virgil van Dijk was named 2018/19 UEFA Men's Player of the Year in August, Lionel Messi then scooped the 2019 FIFA Best Men's Player prize the following month - and, with this year's Ballon d'Or still to be handed out, Casillas is bracing himself for all three accolades to go to different recipients.
Taking to his Twitter account on Friday, the World Cup-winning former Real Madrid and Spain captain wrote: "Van Dijk was the best player for UEFA. Messi for FIFA.
"Imagine if Cristiano [Ronaldo] (who fully deserves to) wins the Ballon d'Or. I'd be left with the distinct impression that the criteria for giving out awards in football aren't very consistent - wouldn't you?"
Van Dijk fue el mejor jugador para UEFA. Messi fue el mejor para FIFA. Imagina: Cristiano (méritos hace para ello) gana el BALÓN DE ORO, me parecería que las pautas que seguimos en el fútbol para dar premios no tiene mucha lógica, no? Reflexión de viernes. #FelizFinDeSemana

— Iker Casillas (@IkerCasillas) November 15, 2019
The winner of the 2019 Ballon d'Or, whose 30-man shortlist was revealed in October, will be announced at a ceremony in Paris in December.
Casillas back in training after heart attack
FC Porto keeper Casillas, 38, returned to training with the Portuguese club earlier in November, as he recovers from suffering a heart attack in May.