PREMIER LEAGUE
Pochettino's goodbye to Spurs player etched on blackboard
The Argentine manager was sacked so abruptly that he never got a chance to say a proper goodbye but he says "you will always be in our hearts."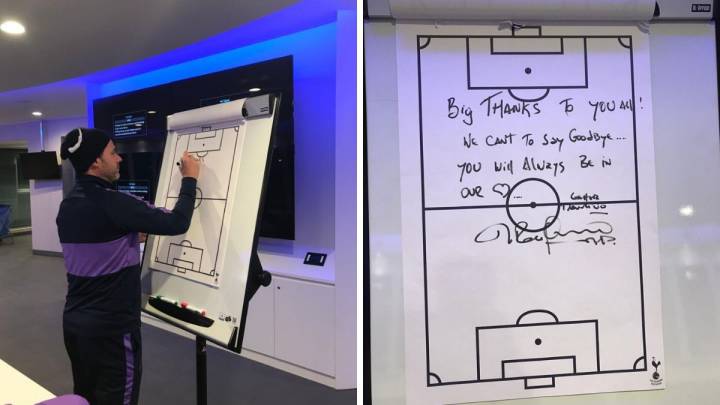 Spurs' former manager, Mauricio Pochettino, was sacked on Tuesday night with Jose Mourinho replacing him on the bench. His sacking was so abrupt that he didn't get to say a proper goodbye to the players he coached for almost six years.
In the age of social media, however, he did get a chance to send them an 'Adios' with Jesús Pérez, assistant manager to Poch, posting a photo of his farewell to the squad.
📸 Exclusive images from Jose Mourinho's first training session.

View the full gallery 👇 #THFC ⚪️ #COYS

— Tottenham Hotspur (@SpursOfficial) November 20, 2019
"Big thanks to you all. We couldn't say goodbye, you will always be in our hearts..."
Pochettino brought Spurs to the Champions League final and made them serial top-four finishers during his time with the club. He moved from Southampton in 2014 having managed Espanyol for three years before that.
There is plenty of speculation as to what the Argentine will do next with Manchester United and Real Madrid previously showing an interest in him. Both clubs are on upward trajectories recently, however, and Bayern Munich have been mentioned as a possible landing spot.