Neymar PSG substitution reaction to be dealt with 'internally'
The Brazilian was substituted in the 2-0 victory over Lille and he headed straight past his boss Thomas Tuchel and the bench.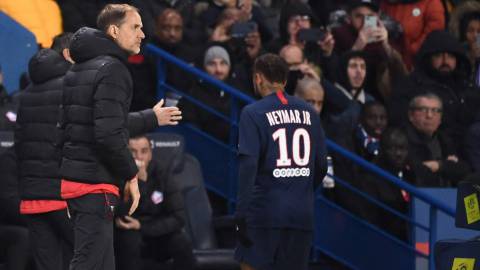 The return of Neymar may not have been quite as smooth as those in Paris had expected. Ahead of the Ligue 1 game against Lille, PSG manager Thomas Tuchel admitted that he was not particularly pleased that his star, who was recovering from injury, had jumped on a plane to Madrid to see the Davis Cup organised by his friend, Gerard Piqué. And the response of the player when substituted didn't look too conciliatory.
Neymar and Tuchel's 'internal' issues
"What can I do? I'm not his father or the police." That was the almost resigned reply that came from the German coach when asked what he thought about Neymar's decision to go to the tennis tournament. But he did then start the Brazilian in the eventual 2-0 win on Friday evening, with the player having a relatively quiet performance for the 64 minutes he was on the field.
It was at that point, just after the hour mark, when the board went up on the sidelines. The red 10 to be replaced with the green 7, Kylian Mbappé, who had been unwell in the lead up to the game, was getting some pitch time.

The Brazilian trotted off, gave a hug to the young Frenchman, and then headed straight down the tunnel to the dressing room, not staying to support his teammates for the final half hour. This was possibly not the wisest image to give off, especially after a number of local fans had been whistling his actions.
After the game, Tuchel was asked what he thought about that gesture from his number 10, and he looked to play it down.
"Many players go directly to the dressing room," he began. "Others stay on the bench.
"I didn't see it because I was focused on the tactical change [when Mbappé came on he gave new instructions to his teammates]. That's why I didn't see him. We'll have to talk about this internally," he concluded.
Neymar's return to form
Although Neymar's performance was far from his best, his coach was quick to justify his inclusion in the starting line-up.
"He missed six weeks. That's a lot for a player like him. He lacked rhythm, precision, and time to be decisive.
"After six weeks, he needed to play," was the understandable explaination considering their next challenge.

On Tuesday, PSG travel to Madrid to face Zinedine Zidane's men in what is a crucial fixture in the Champions League. By then we should know if the Brazilian and the German have sorted out their "internal" issues, as Barcelona continue to hover above their heads.