1

2
Luis Suárez 52',
Vidal 78'
Vidal helps unconvincing Barcelona to Leganés victory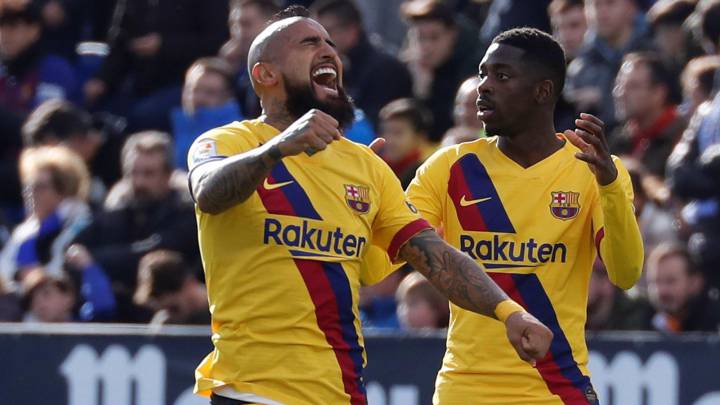 Leganés vs Barcelona live online
Thank you for joining us this afternoon, and we'll be back soon for more live football...
Of course, Barcelona will be delighted to maintain their top spot in the league, but Valverde will have to ponder the decisions he made in this game. It was a fortunate rebound that handed this game to the Catalan side, but their attacking quartet of Suárez, Messi, Griezmann and Dembélé did little to suggest they are a winning formula.
More work on the training ground, maybe, or a rethink on how to use his stars separately. He needs to get it right soon though with big games on the horizon.
After a battling performance from hosts Leganés, they can wave goodbye to the three points which are on their way to the Camp Nou. Barça were far from convincing - once again on their travels - and will have to improve if they are to reach their goals this season.
Peep, peep, peeeeeep! That's the final whistle and Barça have the win.
The game appears to be gone for Leganés...
Tidy attack from Barça puts Dembélé free in the inside right channel. He dithers and delays (!) and Cuellar snuffs out the threat.
We'll have 4 added minutes.
...that was quickly ended by a clear Vidal foul and he's given a card to match his shirt.
A couple of chances to get crosses into the Barça area come to nothing for Lega, but poor control from Dembélé allows another break...
The visitors are understandably trying to take the pace out of this game, while their hosts struggle to get on the ball. Umtiti carries it out of defence and Carrillo takes him out clumsily. That won't help their cause.
Omeruo and the impressive Roque Mesa off for Carrillo and Tarin
There is a clear change in the noise around this stadium. A feeling of being unjustly robbed of something from this game. It certainly was a huge stroke of luck for the Spanish champions.
Wait! VAR is checking as Vidal is clearly in an offside position when the ball is played to him...but the question is if the ball is played by Rakitic or if it deflects off the defender...
It's the latter. Goal stands!
Goooooaaaaaaalll! Vidal puts Barça ahead.
PING! As the ball drops out of the air, Pérez hits it on the volley from about 20 yards. It dips nicely but Ter Stegen is behind it all the way.
Back playing, and Vidal is happy to fly through the back of his opponent. Pressure off.
Play is stopped as Siovas gets some attention for a sore chest after a collision. Purple-shirted players are in the wars, as Silva goes off to get his finger strapped up.
More possession in the final third for Barça ending with a poor pass. Cuellar will be happy with the performance of those in front of him.
Barça are trying everything. The wing play was a clear early focus and now they look to feed the ball through the centre, possibly hoping for another set-piece to be handed their way. They need some magic, and there's not much on show.
Valverde certainly wants all three points. Young starlet Ansu Fati comes on for De Jong, and he's likely been told to run at a surely tiring defence.
A break down the left and centred cross finds Eraso running onto it. His movement doesn't allow him to get a controlled header on goal and instead it flies high and away from danger.
Leganés still a risk to Barça on the counter.
Some concerted pressure from the visitors as Leganés appear to be more worried about getting nothing from this game than claiming three points.
Óscar heads off for Eraso in Pellegrini's first change.
Double change
Busquets is off, Rakitic (likely the man that'll take his place against Atlético) replaces him.
Vidal also comes on, for Griezmann.
CHANCE! Messi is fed into space just inside the opposition area with a deliciously disguised pass from De Jong. Under pressure the Argentine fails to get enough power on his shot and Cuellar is down quickly to stop it.
CHANCE! No feeling sorry for themselves. Leganés are back on the attack and En-Nesyri plants a header in the direction of Ter Stegen's goal. The German saves well.
Messi curls a free-kick from deep into the area and lays it on a plate for his striker to head home from about six yards. Will that give more of a swagger to the visitors?
Junior scampers down the left wing for Barça (there's a clear intention to use the wide players more) but he is unable to get away from the covering full-back.
Leganés almost go straight down the other end and score but Ter Stegen collects a fortunate rebound to calm things down.
POST! Piqué rises well at the back and heads the corner onto the upright. The ball bounces back and the defender controls with his hand deliberately.
So close to seeing an equaliser; should have seen a yellow.
Over a minute of control in the Leganés half, switching the ball from side to side, ends with a corner from a deflected Wagué cross.
OK. The teams are back out and we're ready to see if this fixture rights itself according to the teams' status.
Contrast
There was a lot of excitement from fans when the teams were announced but some questioned the decision from Valverde to play so top heavy. Let's see if he makes any changes to the second half, or if the players are able to click better.
Pellegrini will be delighted with his troops. They've been organised and energetic, not looking to anything too clever in dangerous situations, but confident when moving up the park.

With that attacking quartet, Lionel Messi has been playing very centrally. The have been moments when he has released his teammates but they have been unable to capitalise.
Well, well, well. How many of you had Barça to be losing at half-time? (That's not rhetorical, tell me in the comments section!)
The lowly hosts may not have had much of the ball but they've certainly created the better chances with the scraps. The reigning champions, despite having their four bg-name forwards on the field, have been disappointing.
There is no additional time to play and the whistle blows.
CHANCE! Barcelona are very wasteful in the middle of the park and Leganés break again. En-Nesyri runs on and strikes wide of the goal, under pressure. That may be the final play of the half.
Chance for Leganés to break and they do, four on four. The switch in play looks good but the pass is just too far in front and the ball runs out of play.
Wagué breaks out confidently at pace from his defensive line. He stops once he gets into the opposition half and lays the ball back to a teammate. Momentum lost.
With five minutes till the break, the team in their bright yellow away shirts have had 70% possession. They've not done too much with it though.
CHANCE! The hosts open up some space for Mesa to try his luck from just outside the Barça area. It's on target but there's not enough purchase on it to make Ter Stegen's life difficult.
Leganés are struggling now to get out of their own half but they're always a threat on the break. Let's just remember that the 20th team in LaLiga are leading the 1st team.
Busquets into book for unnecessary challenge - he'll miss Atlético game!
Barça win back the ball. Messi opens things up from his spot in the middle, pushing it wide right to Griezmann. Just as it's looking promising, the Frenchman tries to switch play to his compatriot on the left but completely overhits it and the chance is gone.
Messi opens things up from his spot in the middle, pushing it wide right to Griezmann. Just as it's looking promising, the Frenchman tries to switch play to his compatriot on the left but completely overhits it and the chance is gone.
CLOSE! Great save from Cuellar! Dembélé swings in a tempting ball from the left and it's Suárez with the glancing header. The keeper's fully extended arm turns the effort wide of the post. Nice all round.
Barça almost break into a dangerous position through the middle but Griezmann's clear control with his arm is deemed illegal. 'How dare you stick to the rules,' appeared to be the Frenchman's reaction.
The Catalan side are working the ball around with more patience than before - I'd suggest it's the right tactic - and using both flanks. New-boy Wagué is showing himself keen to get down the right but, as yet, has not been set free by his teammates. De Jong got close to doing so there.
What's Ter Stegen doing? The German decides to run out to the right of his box, with no chance of getting there first. He's lucky that En-Nesyri's attempt to go around him pushes the ball out of play otherwise that was 2-0.
CLOSE! Suárez collects a slick pass well but gives the keeper a chance and his block kills the danger.
Mesa is the first name into the book. It looked a naughty foul on the back of Messi as the Argentine tried to open up the defence. Referee Latre allowed play to continue then got the card out.
Leganés are defending in numbers but happy to throw men forward when they get possession back. A ball swung in from the right is controlled by Piqué in the area and the crowd don't waste the chance to shout 'handball!' It wasn't but the tennis organiser is an easy target.
CLOSE! Not great defending allows Óscar to have a hit from inside the Barça area. It's dragged just wide of the near post. The noise in here has just gone up a notch.
Barça players complaining after a couple of decisions don't go their way. Ref looked to get it right from here.
Picking the ball up on the right, the attacker cuts in and whips a beautiful strike into the far top corner. Ter Stegen, no chance. What a start!
As the tenth minute ticks over, a teasing effort from Roque Mesa slides just wide of the post.
Better in possession for the visitors but so far the idea seems to be to fire the ball into the final third as early as possible, and it's not sticking. Hosts doing well to keep things tight and organised.
After the ball swaps between various defenders at the back, Umtiti goes long for Dembélé but his hold-up play is not good enough and Leganés win the ball back.
Barça struggling in these early stages to link up much of their play going forward. The home fans are making plenty of noise to encourage their heroes to keep working hard to close down space.
Free-kick given to the visitors after Perez is seen to have fouled Dembélé who was running into the middle of the park.
First half opportunity falls to the hosts. Braithwaite reacts to a loose ball rebounded out of the area and hits. It's hard but way too high.
Immediately Barça win back possession and a ball through the middle is mopped up by the outrushing Cuellar. In saying he mopped it up, he sliced his pass out of play!
All the pleasantries out the way and it will be Leganés to get us going.
Not long to go now. The players are making their way out onto the field...
Barça away woes
Despite topping the table, Valverde and co will remember what happend on their most recent away trip. A 3-1 loss to Levente surprised many international followers, although those that have seen every Barça game know that they have been far from their best on a number of their travels.
Last time out the hosts welcomed Eibar and despite En-Nesyri putting them ahead in just six minutes, they heading off for the FIFA break with nothing to show for it in a 1-2 loss.
Before that, a 5-0 defeat at the Bernabéu may prove to be a marker for Barça.
It's a sunny, but chilly, day here in Madrid. And that pitch looks like an acceptable venue for some fun football.
Wagué knowledge
Role model Alves, a fan of Keita, youngest World Cup goal scorer, yes scorer!...
For those of you who are not fully aware of new starter Moussa Wagué, Barça's admin has put together a little fact file.
Barça's 4-man attack
Another intriguing link-up will be that between Suárez, Griezmann, Messi and Dembélé. Clearly Valverde is wanting - maybe expecting - a comfortable afternoon and is aiming to boost the club's goal difference.
This is Moussa Wagué's first game of the season. The 21-year-old Senegalese defender comes in at right back with Junior Firpo on the other side of defence. It will be interesting to see how this new back four combine, and how much work they have to do against the league's early-season strugglers.
Barça starting XI | Ter Steguen; Junior, Umtiti, Piqué, Moussa; Griezmann, Busquets, De Jong; Dembelé, Suárez, Messi
Leganés starting XI | Cuellar; Rosales, Bustinza, Siovas, Omeruo, Silva; Oscar, Ruben Perez, Roque Mesa; En Nesyri, Braithwaite
And we have the team news for you...
Bottom vs Top
On paper, this game is a no contest. Mauricio Pellegrino's side lie rock bottom of LaLiga having picked up just one win and three draws in their opening 13 fixtures.
Ernesto Valverde, on the other hand, looks down from on high, as the reigning champions lead the way with 25 points from 12 games.
Football, of course is not played on paper, but it would take a brave person to lump too much on a home win here today.
Hello and a very warm welcome to our live coverage in LaLiga Santander. The international break is over and our lunchtime game in Spain sees Leganés welcome Barcelona to Butarque.
We're building up to kick-off with all the information you'll need to know, and then will take you through the action from 13:00 CET.
.