VAR review overturns PSG penalty and Courtois red card
PSG coach Tuchel was left laughing sarcastically after the referee changed his mind on a major decision.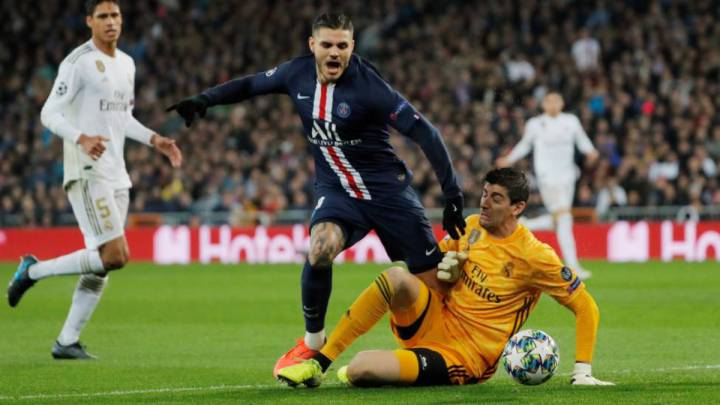 PSG were stunned in the 43rd minute of their Champions League game against Real Madrid at the Bernabéu when the referee, having reviewed his pitch side TV monitor, decided to reverse his decision to award the French side a penalty and send Madrid keeper Thibaut Courtois off, instead bringing the play right back to the midfield to give the home side a free-kick for a slight shove on Marcelo.
Ref review denies PSG penalty
With Real Madrid leading 1-0 through a 17 minute Benzema goal, Courtois brought down Icardi, running diagonally past him on the left hand side of the box. The referee showed the Belgian keeper a red card and then went to review the incident on the monitor. Most observers thought the review might be simply to check that the foul had taken place inside the box, however Portuguese referee Artur Dias took almost everybody by surprise by going back to the very start of the move when Gueye won the ball off Marcelo in the midfield with a shove. Real Madrid were awarded a free-kick just by the centre-circle.
The PSG players protested the decision furiously and Tuchel was seen laughing sarcastically on the bench at the outcome, however Dias remained unmoved.
At the time of the shove by Gueye on Marcelo, the referee had waved to the Brazilian to get up as he had claimed for a free-kick, however after reviewing the incident he clearly changed his mind over the severity of the push.
AS resident referee's view

AS resident ref, Iturralde González, explained what had happened from an officiating stand point: "The referee blows for a foul on Courtois. As he thinks it was outside the area and it was a clear goal-scoring chance he sends the goalkeeper off. But as with all possible penalties, it's reviewed from the start of the move and the VAR tells him there might have been a foul back then.
"The referee therefore goes to review it and decides it was a foul [on Marcelo] and gives that, meaning everything after effectively never happened. The serious thing about the situation is that... [on the foul on Marcelo] the referee saw it right in front of him, and told Marcelo to get up. In my opinion there's contact, but not enough to make it a foul."