REAL MADRID
Real Madrid: Hazard's injury opens the door for Vinicius
After being left out of the squad for the last two games, Vinicius has an opportunity to play in his favoured position on the left with a hectic schedule upcoming.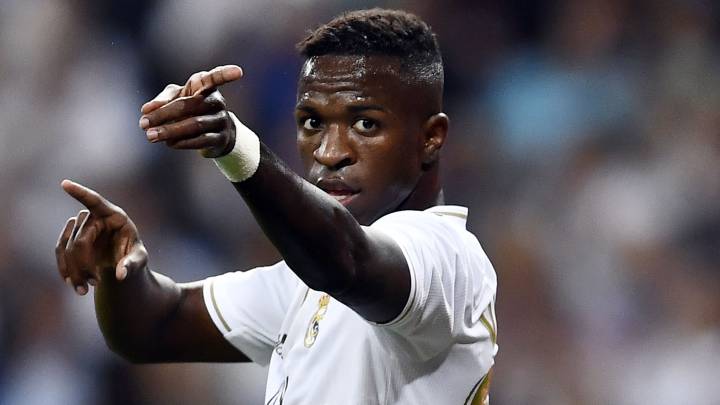 Eden Hazard's injury comes at the worst time for the Belgian, who was enjoying his best form since signing for Real Madrid. But it has opened the door a crack for Vinicius. "Last year, Hazard wasn't here..." said Zidane when asked why the Brazilian hadn't pushed on from his role last season.
The manager sees Vinicius as a left winger and hasn't really entertained the idea of him playing anywhere else. The 19-year-old might return to the line-up against Alavés and Espanyol in Hazard's absence. They also play Club Brugge in the Champions League with first place to play for but the Belgian might be back for that.
Four days after that clash, and three days before el Clásico, Real Madrid travel to Mestalla and the French manager will be eyeing wholesale rotations to keep his players rested. He might stick with the 4-3-3 that is most common under Zidane with Rodrygo on right and Bale on the left. He could also revert to a 4-4-2 with Isco as the fourth midfielder. And in this case, it would be Bale and Benzema up front.
Zidane, who was quick to declare his love for Mbappé before the PSG game, has never completely fallen for Vinicius. The next few games will be a test of his desire to keep Vinicius around for the rest of the season. Last year, when Zidane returned, Vinicius was injured. He was given the all clear on 21 April but didn't make an appearance in a squad list until May 5 against Villarreal. Zidane wouldn't have minded a loan deal in the summer but Florentino Pérezv ixnayed that idea.
Vinicius played in seven of the first nine games of the seasons but against Granada, on October 5, he was left out of the squad for the first time. He has been left out of four of the last seven squad lists named by Zidane and only played 56 minutes. He rejects the idea of a loan as do the club. Hazard's injury breathes air back into his season and gives him the opportunity to convince Zidane anew that he has a place in his team this season.