Zidane refinds Isco thanks to the 'Cardiff system'
The formation and style used to secure la Duodécima, a 4-4-2 with Isco playing a decisive role, has been brought back in for Real Madrid's recent success.
Zinedine Zidane had not forgotten Isco. It may have appeared this way to many, and especially after the 3-1 victory over Real Sociedad, where the midfielder was a bit-part player (substituted in minute 83), he was the 21st in the squad in terms of minutes played. That all changed with the arrival of PSG to the Bernabéu and then the trip to a wet Mendizorroza.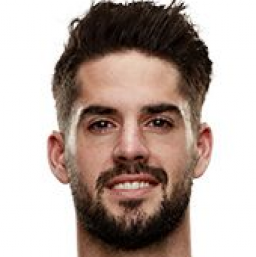 The return of Isco
The French coach surprised many with a change to the formation, or should that be a return to an older formation, one that proved so successful in the Cardiff final (as well as that in Kiev). It was a 4-4-2 set-up and drew on Isco's particular skills in the centre.
In those two finals, those that handed Los Blancos their twelfth and thirteenth European titles, the Málaga-born player's talent was the differential factor that dispensed with the BBC frontline, leaving Gareth Bale on the bench. It was a model that Zidane had 'threatened' to evolve last summer with the use of two strikers: Benzema and newcomer Jovic. With true purpose, this was only really seen, however, in real fire, at the Estadio de la Cerámica (2-2) and at Son Moix (1-0). It's future looked uncertain at best.
False nine ideas
What has since transpired is that Zidane, who watched the debacle in Paris unfold, decided to use that combination once again for the reverse fixture. Isco was back in (at the expense of Modric) and caught out an unsuspecting Thomas Tuchel, who was relieved to escape with a draw after a dominant Madrid performance. He had only played 232 minutes before.
Isco's involvement in the build up play against PSG was a key factor to the joy that the team had and Zidane is fond of maintaining continuity when things work. It was repeated in Vitoria, with Valverde rested, and along with Casemiro, Kroos and Modric he again ran the show, often as a false nine. Seven shots in each game, was in line with that of Benzema.
"We have never lost Isco," Zidane argued in the post-match discussion in Vitoria. In the summer, it was the player himself who ruled out a move away from the club, despite his manager suggesting that he would likely be a substitute to the first team. That has been the situation, but the Andalucian magician my have waved his wand effectively enough to get more stage time in a season that has a feeling of ever-increasing positivity.