Casemiro's Clásico dilemma as Zidane ponders tactical shuffle
With just two leagues games until the first Real Madrid vs Barcelona clash of the season, Zinedine Zidane has a tactical decision to make on the Brazilian.
As manager of Real Madrid, Zinedine Zidane doesn't have to wait very long for a problem to arise. Just when it looked as though his side had reached their cruising speed, a few dark clouds have started to gather above, in the form of Casemiro. Fortunately for the French coach it is a situation that he can get out ahead of.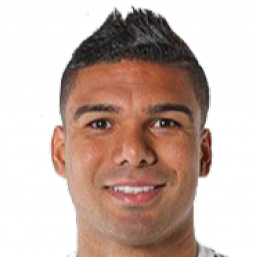 Casemiro decision over Mestalla/Camp Nou
The Brazilian midfielder has accumulated four yellow cards this season and knows that a fifth will result in an automatic suspension for the following game. This coming Saturday (7 December) Real Madrid welcome Espanyol to the Spanish capital and - not forgetting Brugge in the Champions League dead rubber - that is followed on Sunday 15 December with a trip to Valencia. Three days later, on Wednesday 18 December, the side will travel to the Camp Nou for the first Clásico of the season, one that some are saying could have a significant bearing on the title race. Zidane needs to shuffle his pack accordingly.
In actual fact, Casemiro has been shown five yellow cards on the field, however one of these, against Villarreal in matchday 3, was overturned by the Spanish football authorities, TAD. The four remaining bookings for the Brazilian were picked up against Valladolid, Levante, Granada and Real Betis: every one of them during home games at the Santiago Bernabéu. Since the most recent one against the Sevillian club on 2 November, Casemiro has gone more than 320 minutes without the referee taking his name in LaLiga. Three and a half games in which the midfielder has given away just three fouls: none against Eibar, one against Real Sociedad and two against Alavés.
This leads us to the position that Zidane now finds himself in. If it were down to the player, he would want to play in every game but the manager knows the important role he has in the side and will not want to be without him at Camp Nou. Ideally though, he would want him shoring up the middle of the Mestalla park too.
If he chooses to leave Casemiro out of the Espanyol game, he can guarantee being able to call upon him for the Valencia test, with a risk that he picks up that decisive fifth yellow and misses El Clásico. On the other hand, he may send him out this weekend and 'hope' that he does indeed find himself in the referee's book by the end of the game. This would of course see him out of the Mestalla match, but will have him returning fresh, and with a clean card slate, for the biggest game of the season so far.