1

o
Saudi Arabia beat Qatar to book place in Gulf Cup final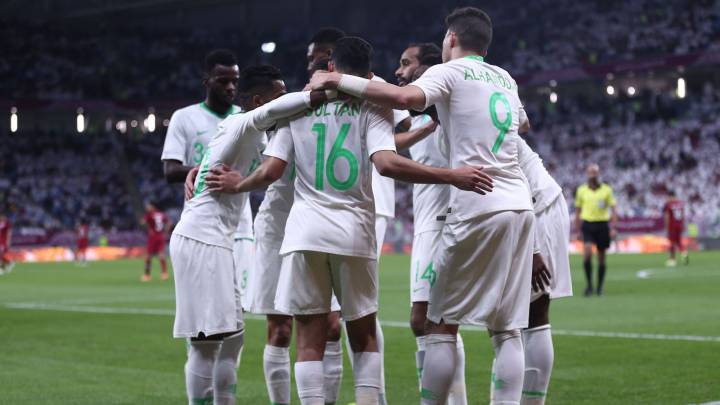 Saudi Arabia vs Qatar: as it happened!
That's it! Qatar were all over Saudi Arabia but the first half goal killed them. Really great game but it's Saudi Arabia and Bahrain in the final on Sunday.
In the last minute of normal time.
More of the same from Qatar. Pressure but nothing getting through!
Shot from Almoez but Al Sheeb down to his right to save.
Kicking off now. Saudi hangin on and Qatar want to get the game started. Saudi player on the ground. It's Babhir and in fairness that looked like a sore one.
Another corner and Qatar's fans cheer them on.
Al Sheeb can't take the goal kick. He says something wrong with his leg so he needs a defender to kick it out for him. Straight out of the Timewaster's Handbook that one.
Saudi look to seal it. They attack with Al Ghanam and he rattles the post. Al Shahrani follows up and forces a save from Al Qarni.
Shot from Hatim and it drifts wide. Al Sheeb scrambles but he's not needed.
Another corner for Qatar. That comes after a very long break. Ball headed clear with Al Sheeb not coming to claim. Qatar are all over Saudi Arabia.
Ziyad coming on for Saudi. Off goes Alhamddan, the goalscorer.
Al Malki down injured for Saudi Arabia as the medics come on to help him out.
Free sent in and it's headed up into the air. Nope. Saudi Arabia get it away again but, you guessed it, Qatar continue to attack after winning it back. This is going to be a long 20 minutes for Saudi Arabia.
Hatan Sultan with a yellow now for a cynical foul on Ro Ro down the wing.
Qatar bring the ball out from the back again.
Free sent in and while Khouki gets to it, he was offside.
Another corner and it's headed over by Ro Ro.
Another shot comes in. This one is wide. Saudi Arabia hanging on for dear life now.
What a chance! Al Sheeb makes a mess of the corner as he misjudges it and it floats over him, hits off the post, off him and nearly behind the line for the equaliser. Saudi survive another scare.
Nawaf didn't like the tackle from Ro Ro before the cross and he pushes the defender. Getting chippy now but the Qatar defender doesn't respond.
Oh! Another ball into the box and it's headed out for another corner.
Saudi want a penalty. A fairly feeble attempt at a dive that the referee doesn't fall for. Qatar break.
Qatar with another effort. In from the lef this time and it bobbles around befor being cleared. Saudi under increasing pressure. Qatar getting a little desperate.
Another good chance for Qatar and it's from the right wing again. Crossed in and Al Sheeb looks solid behind that one. Catches and sprays it out to a teammate. Saudi looking for a second.
The second half has been a little sloppy. Saudi trying to slow down Qatar and it's working. Game hasn't gotten going since the restart.
Al Khabrani gets himself booked now for pulling Afif down off the ball. The ball came in over the top and the attacking player was fouled as he darted towards the ball.
Afif a little over-zealous as he tries to win the ball back from Saudi Arabia and he gets booked for grabbing the attacker. Yellow card for his effort.
That's not going to get it done. Hassan with a shot from distance but Qatar continue to threaten. A little more composure when they get forward and they should manage one in the second half here.
Corner for Saudi Arabia. Headed clear.
HALF-TIME! That was a lively affair. Slowish to start but after the goal, Qatar picked it up and were all over Saudi Arabia.
One last attack and ir's Ro Ro. Saved by the keeper, who falls on it and tries to kill another few seconds.
Afif with a foul and Saudi get a breather. They are taking their time over this one. Not sure I've ever seen a man walking to the ball as slowly. They eventually take it and Saudi move forward but they're nervous now.
Another effort for Qatar and Hatim drifts one wide. Saudi under serious pressure here and a few of their players just telling each other to calm down. Not sure who they're trying to convince though.
Hassan looks like he was fouled and ref tells him to get up. He is incredulous and it did look like his leg was taken from under him. Play on. Game is opening up now as Qatar look to restore parity before the break.
Another corner and the keeper, again, looks a little unsteady under the high ball.
Danger again. Down the left this time though. Hassan tries to cut back inside and it ends up out for a corner. Good delivery but headed up into the air and out for a goalkick.
Almoez breaks forward and shoots from outside the box. He didn't have too many options but he probably might have waited for a teammate to join him too. Blazed over in the end.
Qatar really eager to get back into this and a foul high up the field the result of the most recent pressure. Saudi with a chance to clear the danger and get a breather.
Qatar threatening down the right hand side. It's Ro Ro this time but his teammates say No No when they see the cross. It's half-shot, half-cross and ends up going out over the endline.
They also give him some magic spray for a bruised ego after that attempt too.
Al Qarni down now getting treatment. He did get a blow to the head there as he launched himself through the air in search of the ball. His own defender's knee did the damage.
Qatar look to respond. Really dangerous ball in from the right and the keeper makes a mess of it. Al Qarni comes to collect the cross and drops it, gets to it again and then nearly takes his defender out of it as he tries at the third time of asking. Cleared by Saudi but a little too close for comfort.
SAUDI GOAL! Ball down the right and it's sent into the box, more hopeful than anything else. Keeper makes a half-baked attempt at a punch and Alhamddan gets to it first, heading it home.
The free is taken by Hassan and it's sent into another stratosphere. He piledrives it over.
Again, Qatar are stopped on the break. It's Almoez the one fouled again as he recieves the ball with his back to goal.
Saudi's Kanu pulls down Almoez as he absolutely clatters him in the air.
Saudi Arabia look good in possession, as I've said, but Qatar have them right where they want them. They still haven't troubled Al Sheeb and Qatar look lively in transition.
Qatar attack again and it's Afif this time on the right. Cross in is out of play befor it can even reach the box. Qatar still look good in attack.
Qatar fans with a Mexican wave, which feels odd at a semi-final.
Qatar back on it now and they look way more dangerous in possession.
Qatar threaten. Hassan down the left and drives a cross into the box, low and hard. Al Qarni saves.
Some confusion in Qatar's area as the ball is sent in. Al Shahrani waits for it, and he might have been offside, but Qatar struggle to clear first time and eventually do. Saudi Arabia in control but haven't really created much.
Qatar send it back to Al Sheeb, their keeper, and he sends it out for a throw. More pressure from Saudi Arabia.
Ball sent into the box and headed away. Saudi Arabia slowly taking control though.
Saudi Arabia on the ball now and looking to cause problems. Al Birakan is hauled down by Afif as he strides forward and they have a free inside their opponents' half.
Qatar on the ball to start.Nice ball in behind for Afif and he cuts it back. Saudi Arabia manage to scramble away but this is a good start by the home nation. They have the fans roaring them on too.
We are about to find out who meets Bahrain in the final on Sunday.
Herve Renard in the dugout looking as handsome as ever. He's wearing, you'll never guess...a white shirt. Might be Jamie Lannister either but we're not sure.
Two teams captains up for the toss. Al-Haydos and Nawaf for Saudi Arabia.
What a penalty! He just put Bahrain through to the Gulf Cup final in style. Ali Madan sends it into the very top corner. No chance for the keeper, who was gone the other way anyway.
Another sub. This time it's Qasem and he misses. 4-3 still.
Dhurgham Ismael buries it. 2-2.
2-1. Substitute Al Jassim Shaikh slots it under the keeper. He's over to his own keeper to give him a hug ahead of the next penalty.
The final is on Sunday at Khalifa International Stadium.
We have penalties in the other game! 2-2 after normal time. 2-2 after extra-time. the shoot-out is about to begin.
Saudi Arabia XI: Al-Qarni, Al Ghanam, Al-Khabrani, Tombakti, Al-Shahrani, Al-Malki, Otayf, Kanno, Al Abed, Albirakan, Al-Hamdan.
Qatar XI: Al Sheeb, Hatem, Ró-Ró, Khouki, Salman, Hassan, Al Haidos, Boudiaf, Al Hajri, Afif, Ali.
"At this point in the competition, you cannot make mistakes," Feliz Sanchez, Saudi's coach told a news conference on Wednesday. "We are playing against a strong team, we will try to play our game and will do our best to get a strong result."

Qatar are at home tonight. The venue is Al Janoub Stadium, which was built in 2014 and holds 40,000 fans.
Saudi Arabia also lost their first game. That was 3-1 to Kuwait.
They won their second 2-0 against Bahrain.
They beat Oman 3-1 in the third game.
That was enough to see them finish top of their group with 6 points.
Qatar lost to Iraq in their first game of the Gulf Cup, 2-1.
Then they beat Yemen, nay hammered Yemen, 6-0 in the second game.
They won 4-2 against UAE in the third.
That was only enough to see them finish second in their group, however, with Iraq topping it to make the other semi.
In case you were wondering, it's 2-2 in the other semi-final at the end of 90 minutes! Iraq went ahead 1-0 and then 2-1 after 18 minutes but Bahrain pegged them back.
Hello and welcome to our live online coverage of Saudi Arabia vs Qatar in the Gulf Cup semi-final. Kick-off from Doha is coming at 18:00 CET.
.