Luis Suárez: "Neymar's return depends on Barça, PSG and him"
Luis Suárez gave an interview with BeIN Sports Arabia in which he discussed Neymar, Messi's retirement and Antoine Griezmann's arrival at Barcelona.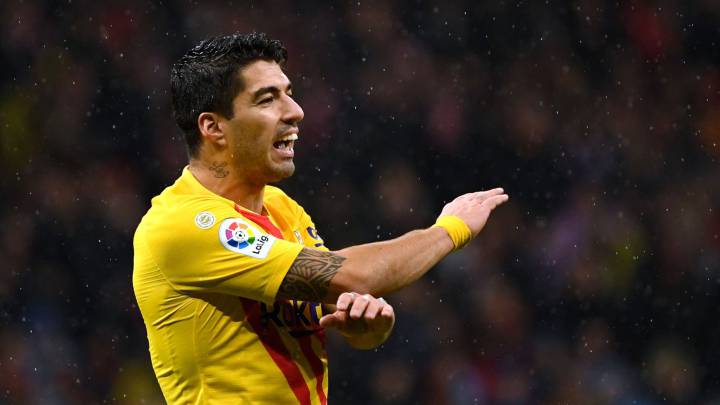 Luis Suárez discussed several themes in an issue with BeIN Sports Arabia, chif among them the possible return of Neymar to Camp Nou, the spectre of Leo Messi's retirement and Antoine Griezmann's adaptation at Camp Nou since his arrival from Atlético Madrid last summer.
On the Brazilian and his failed bid to engineer an exit from PSG during the last transfer window, the Uruguay forward said: "Him leaving was always a risk he was willing to take to try out a new challenge, knowing that here he was at the best club in the world surrounded by the best players. It's acceptable and understandable. Whether he returns or not depends on the club, PSG and him. As a friend of his, I would love to see him happy and playing where he feels comfortable."
Suárez also discussed Griezmann and his arrival at Camp Nou, which has not been quite as impactful as may have been anticipated considering the difference he made at Atlético. There were rumours that some senior Barcelona players, Messi among them, did not view the signing of the Frenchman in a positive light and would have preferred the Camp Nou board to push the boat out for Neymar, but the striker was quick to dismiss that school of thought. "He feels very comfortable here. We gave him a very nice welcome in the dressing room and he has been demonstrating that he has come here to help the team and try to win the titles that we all want."
Luis Suárez: "
I'm sure Leo Messi will continue for a long while yet"
On the prospect of Messi eventually hanging up his boots, which he alluded to after receiving his record sixth Ballon d'Or last Monday, Suárez said he was certain that the Argentinean would be around for a while yet: ""As a friend and team-mate, [the Ballon d'Or] makes me happy and proud because it's a beautiful moment for him. [His comments] were misinterpreted. When someone wins a Ballon d'Or they are happy but also nervous. Leo is a human being and gets nervous like the rest of us. He wanted to say he might have to contend with retiring in a couple of years. It was misunderstood, but I'm sure Leo Messi will continue for a long while yet."
Speaking about his own legacy and eventual replacement, the 32-year-old said he hoped that Barça would sign a new number nine to cover for the eventuality and that he accepted the inevitability that he cannot go on carrying the can in the role indefinitely. "If they bring in a new teammate to give me some competition it will be the same pressure that I have playing every three days. We also have to consider the future of the club. As a supporter of the club, and someone who is grateful for how I have been treated here, looking to the future the best thing to do is look for a young striker and one that is ready for the chance to be Barcelona's number nine when I am no longer here."