Barcelona's slip against La Real stokes up El Clásico
Barcelona, who have previously defended the implementation of VAR, will send a letter of complaint to the Spanish Football Federation over an incident at the end of their draw with Real Sociedad.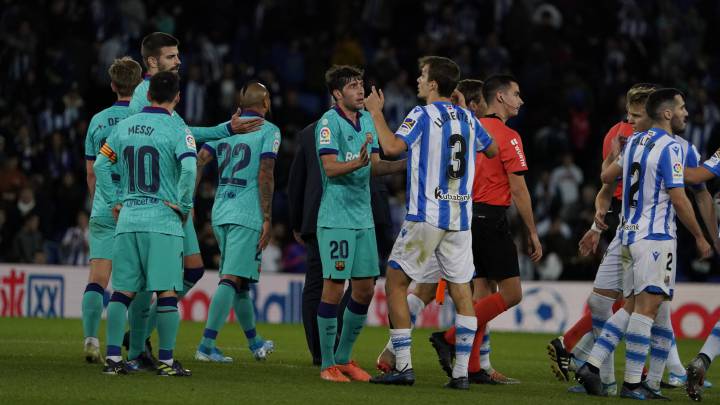 After Barcelona were held to a 2-2 draw at Anoeta against Real Sociedead on Saturday, leaving the door open for Real Madrid to overtake them at the top of the table with a win against Valencia on Sunday evening, the post-match fallout centred around the role of VAR in San Sebastián.
Complaints about VAR
Barcelona president Josep Maria Bartomeu told the press that he would be sending a letter to Spanish Football Federaton president, Luis Rubiales, to complain about the poor application of VAR at the end of the game at Anoeta, in which Barça claimed a penalty for a foul on Gerard Piqué.
"We back VAR and fully believe in it. It is an excellent tool to help referees and reduces their margin of error. It is essential for VAR to continue to work and be perfected, but its protocol should never be revised on the basis of one incident in a game," Josep Vives wrote at the beginning of the year, contradicting Los Culés' complaints over the penalty claim Saturday afternoon.
The Barcelona players, naturally, also felt aggrieved by the decision, with Sergio Busquets questioning the difference between that incident and the pentaly awarded to La Real. Barça, therefore, will go into Wednesday's El Clásico still smarting and feeling hard done by and will need to take all three points if Real Madrid leave Mestalla with a win on Sunday.