Neymar: "I will always love Messi and Mbappé is a special talent"
France Football has released an advance of an interview with the PSG star, who says he "does not play to be number one" and will "always love Leo Messi."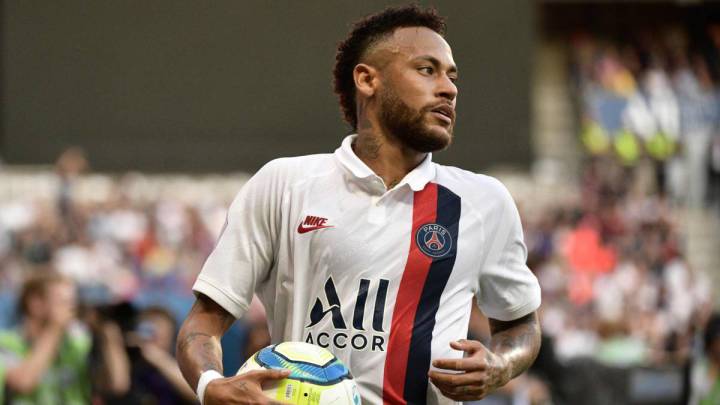 France Football will publish an in-depth interview with Neymar on Tuesday and has released an advance with a few key quotes from the PSG star's chat, including his thoughts on Leo Messi, Kylian Mbappé, how he sees his position in the dressing room at the Parc des Princes and his commitment to the Ligue 1 champions.
"I never play to be number one," the Brazilian told the French publication. "I only play because I love football. I feel happy when I'm playing. And every time I step onto the pitch, I always give 100 percent."
Neymar has come in for criticism from sections of the PSG support this season after his failed bid to engineer a move back to Barcelona last summer, but the 27-year-old insisted his on-pitch persona and his career decisions should not be mistaken for the person he really is. "Very few people know the real Neymar. Only my parents and my friends. What people see is something completely different. And they don't see that much! The real Neymar is peaceful, and very happy. I am someone who likes to spend time with my family and my friends. I like to enjoy myself and savour every minute of life with those close to me."
Neymar: "Our objective is the Champons League and my priority is PSG"

The PSG forward also discussed what people's perceptions of him as a leader on the pitch are and suggested there is no such thing: "How would you describe leadership? Do you believe in perfection? Only God is perfect. Everyone has their faults. A leader is someone who should help his team try to win, to try and guide them to victory. It could be the captain or the player who scores the goals. Everyone has their own way of being a leader and everyone has their own qualities."
When asked about last summer and the lengthy saga of whether or not he would return to Barcelona, Neymar responded: "Why would I want to leave [laughs]. I have two years left on my contract and the team is still improving. We have to remain focused on this season to do as well as we can and win as many titles as we can. This season our main objective is the Champions League. And my priority is PSG. The goal is always to win the next game. In every match, we have to push ourselves for the club. That's the way I see it."
Finally, Neymar was inevitably asked about Messi and Mbappé, and kept his answer short: "I will always love Messi, and Mbappé is a really special talent."