Zidane press conference: VAR complaints, James, LaLiga...
Ahead of the LaLiga game against Athletic Bilbao at the Santiago Bernabéu on Sunday, the Real Madrid manager spoke to the press.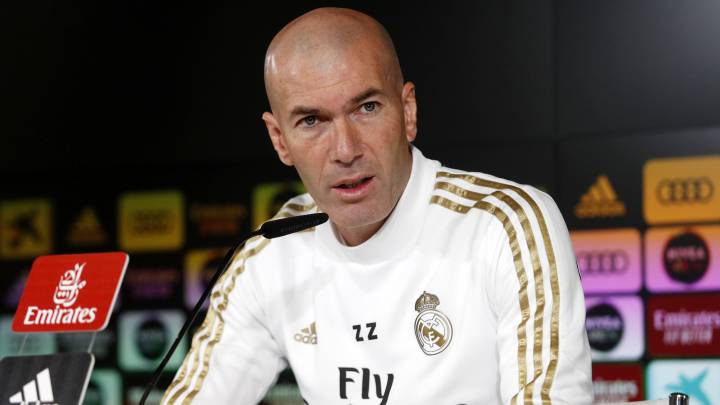 Zinedine Zidane was back in front of the press at Valdebebas, just a few days after an impessive performance at the Camp Nou. Ahead of Real Madrid's game against Athletic Bilbao at the Santiago Bernabéu on Sunday, the manager was asked about a number of elements of the league challenge, including more views on VAR...
Zidane on Athletic
"It's another difficult opponent. They have been doing phenomenally well from the beginning. We know what to expect, and we're prepared to deliver a good performance, giving everything for the final game of the year."
Zidane on VAR and previous decisions
"I don't know [if complaint submitted]. That doesn't interest me. What does is the game tomorrow. The past is in the past.
"VAR is important. It's technology that we know is a plus for football, but like everything in life it can fail. Of course it can be improved, everyone wants it to and it will be done. I retired at 34 and on my last day at Real Madrid I was still improving. But we have to be in favour of VAR."

Zidane on LaLiga prioritisation
"The priority is day, now is everything. The DNA of this cub is to fight and battle until the end, no matter what. The important thing is to work hard every day. We are doing very well and we will continue that into next year."
Zidane on his critics
"I'm not here to talk about what others write or say [about me]. I'm here because I love this club, it's the biggest club in the world and it makes me proud to wake up every day to come to work - developing others to play and being able to defend this badge."
Zidane on Guardiola praise
"I've played against Pep many times and I respect him as a player and a coach. I think he is the best in the world. His successes are clear to see. We would all like to pit our wits against him."
Zidane on early retirement
"I take each day as it comes. I love my job but might be different to other managers. It depends on the relationship I have with those around me. I don't think I'll be a manager, though, when I'm 60 or 70, but I do love it."

Zidane on Madrid improvement
"We can't do anything about what happens elsewhere. The secret to our success is the work ethic, which we must continue every single day. We have improved in defence but continue to try to do so in midfield and attack."
Zidane on James playing
"He is getting better but we will have to wait and see. We want him to be back one hundred per cent and he is getting there."
Zidane on lack of goal threat
"I don't believe we have a lack of firepower. In some matches we score more than others. I have told all my players to shoot more as they have the quality to do so.
Zidane on Isco
"He's a good player, works in order to help the rest of the team and he has a very strong personality. If he is playing it's because he deserves to be after the work he has put in."