Erisksen: Man United planning bid amid Real Madrid, Juve interest
Tottenham are trying to persuade the midfielder to stay but he looks to be aiming for a move, alerting Old Trafford to the possibility of a January bargain.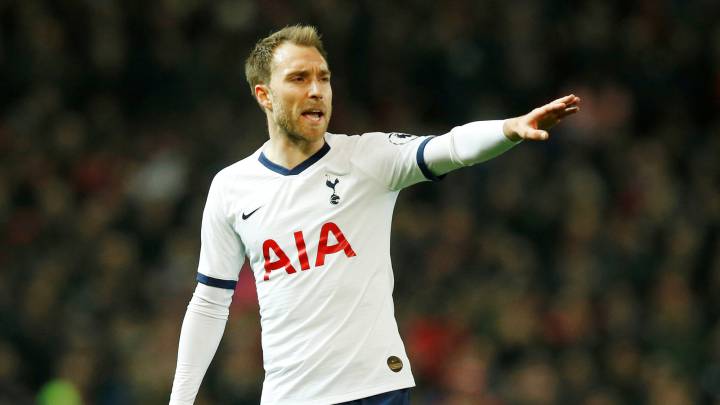 Christian Eriksen is still holding out for a move to Real Madrid and has not renewed his contract at Tottenham, which expires at the end of the current season. The Dane, who was heavily linked with a move to the Bernabéu last summer, has fallen out of favour at the Premier League club and his fortunes do not look set to immediately improve under José Mourinho with the 27-year-old playmaker getting 45 minutes in the defeat against Chelsea last weekend and just a minute against Wolves in Spurs' previous fixture.
Eriksen will be free to speak to European clubs in January and appears to be waiting for Real Madrid to reignite their interest, but the emergence of Fede Valverde and Zinedine Zidane's professed admiration for his countryman Paul Pogba – another player seemingly set for a change of scenery sooner rather than later – have complicated the issue from the Denmark international's perspective. Juventus are also interested but have a wealth of midfielders after adding Aaron Ramsey and Adrien Rabiot to their squad last summer, meaning that the Serie A side will have to offload before they can take anyone one, with Emre Can and Sami Khedira the prime candidates for the exit door.
Manchester United planning January Eriksen bid
That has opened the door for Manchester United, who believe they may be able to pull off a cut-price deal for Eriksen in January. If the Old Trafford board wait until the end of the season they will face serious competition for a free agent of Eriksen's calibre and United think that an offer in the region of 20 million euros may do the trick when the window opens. The only snag in that plan is that Eriksen remains set on a move abroad, whether it be to the Bernabéu or Turin.
Mourinho has fallen short of saying he wants Eriksen to remain at Spurs and offered few clues to his midfielder's options in January: "My feelings are until I have anything official rather than hypothetical, I will not comment," he told reporters earlier this month. "The only thing I can say is the player is a free agent at the end of the season. Of course I've had a conversation with him, but I'm not sharing anything, from respect with the player."
What is certain is that there will be no shortage of takers for Eriksen either in January or next summer. Whether or not Madrid remains a viable destination is open to question and a lot will depend on what move if any Manchester United decide to make next month and how many players Real can shift themselves. Should Eriksen move to Old Trafford, Pogba will probably be on the market shortly afterwards and that is likely to be of more interest to Zidane after the fall in Eriksen's stock so far this season.