Barcelona: Setién: "Signing a striker? We're thinking about it"
The Barça coach would not confirm whether any players would be leaving during the winter transfer window or whether Messi would be in the squad for the Ibiza game.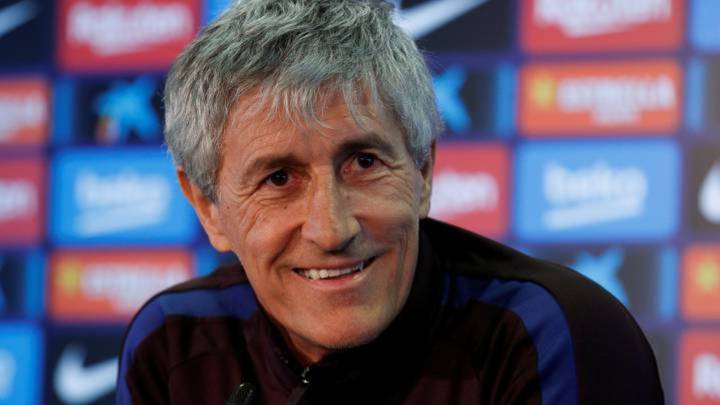 Quique Setién faced the media after this afternoon's training session and looked ahead to tomorrow's Copa del Rey tie against Ibiza.
How will the conditions in Ibiza affect your gameplan - especially the artificial pitch, the weather, the rivals…?
The circumstances are what they are we just have to adapt to them; we'll see how the weather develops, the rain, the wind and the artificial pitch. There will be some things that we'll want to do but won't be able to. And then there's the team we will be facing, they won't be making it easy for us. It's going to be tough and the conditions will make it a more even contest.
Have you made a definite decision about signing a centre-forward?
It's something that we are considering; we've been talking about it and we'll have to see how things pan out. It's not an issue that worries me too much. I am more worried about Ibiza and Valencia. We'll talk it over with the technical department.
Will Leo Messi be rested against Ibiza?
First we need to see how the players get on in training, I have an idea about the team I'll field, but I need to see how the other players do in the session. We'll be fielding a competitive and balanced team.
Have you discussed the possibility that a player could leave in the winter window?
While everyone is here, and at 100 per cent, they are all in my plans and I haven't thought about anyone leaving.
How important is the Copa del Rey to you?
It's a tournament I've always liked - as a player and as a coach. We'll be trying to win it in the same way we want to win the Champions League and LaLiga.
How can you tell a player like Messi that he's not in the team?
Al of us know who Leo Messi is. I always try to convince the players what is best for them from my perspective, we discuss it and usually in the end they see my point.
Which goalkeeper will play - Neto or Ter Stegen?
I don't differentiate between different competitions. Both of them have a chance to play in all of the competitions we are in.