Setién forces Barça to train in deluge and Piqué reacts
The Barcelona defender was visibly not enthused about the prospect of training in torrential rain and freezing conditions at the Ciutat Esportiva.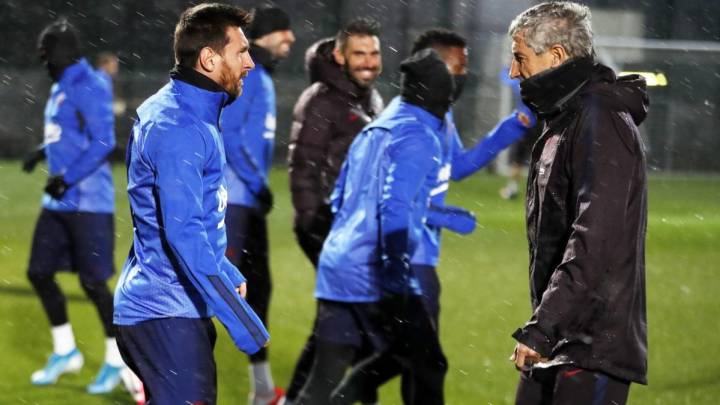 Upon being presented as new Barcelona head coach last week, Quique Setién warned that he planned to bring a "northerly wind" to the club (a play on words also alluding to his Santander roots). What the Cantabrian coach didn't anticipate was the nature of the inclement weather in recent days as the Eastern coast of Spain is being affected by "Storm Gloria" with unseasonably high rainfall being recorded and dangerously high winds causing the closure of Mediterranean airports such as Alicante and Valencia. A drop of rain however, is no deterrent for Setién as the coach maintains his policy of daily training sessions.
Many Barça players were optimistic that the torrential rain falling, coupled with high winds at the Ciutat Esportiva yesterday evening would force Setién to cancel the session or move the programmed Copa del Rey preparation inside to the comfort of the gymnasium but the 61-year-old was not for budging.
Barça Players reaction
As they took to the training pitch, the countenance of many players was clearly one of discontent with Gerard Piqué overhead to say: "They've cancelled sessions for less in the past" as his squad mates tried to inspire the group with calls of "Vamos, vamos!" (Let's go, let's go).
Since taking over as new head coach at the Catalan club, Quique Setién has been quick to show his methodology and impress upon his side the benefits of work on the training pitch.
The Santander born coach took over as Ernesto Valverde's replacement on January 13th and scrapped the day-off previously agreed by his Basque predecessor (Wednesday January 15) with the new manager also adding an evening session on top of the already scheduled morning training session on Tuesday January 14 such was his eagerness to get to familiarise himself better with his new players. At present, apart from match-days (this week against Ibiza in the cup and Valencia in LaLiga on Saturday), the coach has yet to decree a day off for the squad.