Real Madrid: Nacho never lets you down
The Real Madrid central defender saved the day for the team with his winner against Valladolid. This season he has made just seven appearances.
One person was certainly very happy with how things turned out for Real Madrid last night in Valladolid - Nacho: "Three massive points to put us top!!! What a team! And very happy for my goal" the defender tweeted after the game. It's not surprising he was so elated. Not only did he put in a solid performance at right-back, deputising for suspension-hit Dani Carvajal, he also hit the match winner - a goal which puts Madrid back at the top of the table for the first time since Week 8.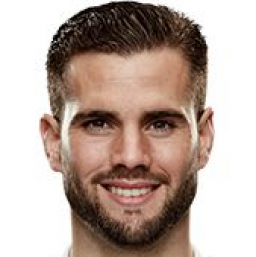 As the ball nestled in the back of the Valladolid net, Nacho raced over to the touchline to hug Zidane. Just moments before, the coach had instructed him to go up for a corner and take up a position by the near post. It proved to be a masterstroke.
But for Nacho, there hasn't been much else to cheer about this season. For starters, the club decided to strengthen the central defence at the start of last year, and ended up signing Éder Militão from Porto in March. Militao's arrival jeopardised Nacho's status as the team's third central defender, knocking down a rung in the pecking order.
Over the past six seasons, Nacho had always surpassed 1000 minutes of playing time per season - suddenly, regular playing time was no longer guaranteed. He mulled over offers from Sevilla and clubs in Italy over the summer but decided to stay in Madrid… and make the most of any opportunities he was given.
Nacho fills in at left-back
Little by little he has earned a place in Zidane's team rotation policy. He made his first appearance of the campaign playing at left-back against Osasuna, covering for the injured Marcelo and Mendy. He also stood in at left-back in the goalless draw with Atlético and the 2-2 draw with Club Brugge on 1 October.
It was in that Champions League meeting with Brugge at the Bernabéu that he suffered  serious damge to the lateral collateral ligament - an injury that would keep him out for the next two months. He was back for the Valencia game on 15 December, after 75 days in the sickbay. Once again he was drafted in to fill the vacant left-back position as both Marcelo and Mendy were unavailable. He also played the following game, against Athletic Club on 22 December, coming on for Militão after the Brazilian had taken a blow to his face. Nacho filled in for the last half hour of the game and came close to scoring with a powerful header only to be denied by the woodwork.
He regressed to the subs' bench for the next month, only to reappear last week - first in the Copa del Rey against Unionistas then yesterday away at Valladolid. "I'm happy with my goal because it meant three very important points for the team in our bid to win the league," Nacho explained after the match. Even flitting in an out of the team, Nacho has shown many times that he he versatile, dependable and decisive - and Zidane knows: Nacho never lets you down…