Antero Henrique, the man that snatched Mbappé from Madrid
The former sporting director of Paris Saint-Germain is now the target for Manchester United, and with a CV par excellence, it could prove to be a master stroke.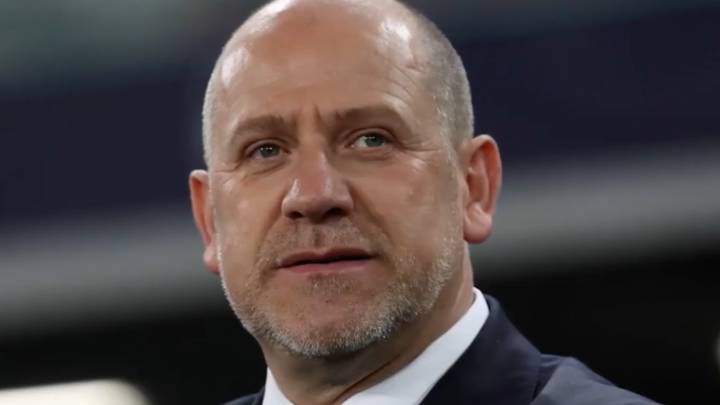 Antero Henrique was born in Vinhais, Portugal in 1968. His name is well known in certain circles but in recent days has been thrown into the footballing spotlight after the news broke that Manchester United were working to bring him to Old Trafford as sporting director. This is a position that, unlike many other elite clubs, has historically not existed, mainly due to that function falling to long-time manager Sir Alex Ferguson.
With the relative crisis that the Red Devils find themselves in, struggling to reach the Champions League positions in the Premier League, and a long, long way off their perennial rivals Liverpool, the magnifying glass has been pointed in the direction of Henrique, one of the most respected in that position. He made his name at Porto and then rose to prominance when Qatar bought Paris Saint-Germain and chose him to step up.
Convincing Mbappé to choose PSG
In his time at PSG Henrique was the key figure in bringing in Kylian Mbappé, managing to lure him from the seemingly irresistible draw of Real Madrid at the point when the Spanish giants had practically signed an agreement with both the player and with the selling club, Monaco. It is said that the director locked himself away for two days with Mbappé and his father, and somehow managed to convince them of the PSG project beyond just the the checkbook.

For the Mbappé clan, the salary being offered in Madrid was not the problem, but breaking into the then untouchable BBC forward line of Bale, Benzema and Cristiano was a risk for Kylian who wanted to be a starter. As well as the blossoming French star, Henrique was also able to attract Neymar and Dani Alves to Paris, fending off some of the Premier League's biggest clubs.
Turning Porto into a European force
Before arriving at PSG his professional career took shape at Porto. In 25 years he went from the communications department to being director of external relations (1997-2005), sports director (2005-2010) and ended up as CEO and vice president of the club (2010-2016). He designed Porto's modernisation leading the development of the academy (Dragon Force), the club's television channel and the new museum, in addition to growing other areas such as handball and basketball.
What stood out most at Porto, however, was in the discovery of new talents and in the intelligent sales of those players, as well as rising stars through the academy. In these operations, he added more than one billion euros to the club's coffers.

A few examples of transfers attributed to Antero Henrique are: Anderson (sold to Manchester United for € 32M), Pepe (Real Madrid, € 30M), Quaresma (Inter, € 25M), Bosingwa (Chelsea, € 21M), Lisandro Lopez (Lyon, € 24M), Lucho Gonzalez (Marseille, € 18M), Aly Cissokho (Lyon, € 15M), Bruno Alves (Zenith, € 22M), Raul Meireles (Liverpool, € 13M), Falcao (Atlético Madrid, € 45M), Hulk (Zenith, € 60M), Guarin (Inter, € 11M), Alvaro Pereira (Inter, € 11M), James Rodriguez (Monaco, € 45M), João Moutinho (Monaco, € 25M), Mangala (Man City, € 45M), Jackson Martinez (Atlético Madrid, € 35M), Danilo (Real Madrid, € 32M), Alex Sandro (Juventus, € 26M) ), Otamendi (Valencia, € 12M), Imbula (Stoke, € 24M), André Silva (Milan, € 38M) and Ruben Neves (Wolves, € 16M).
The rise of PSG
After his move to PSG as sports director he reorganised the club by providing a structure to the recruitment department, enhancing the medical team, developing club technology, designing the sports city and looking after family relations. The new philosophy in both the academy and the scouting reaped economic benefits.
As well as spending big, Henrique helped the club to recoup the necessary sales to balance the club's books and fulfill Financial Fair Play rules. These included the departures of Lucas Moura (sold to Tottenham for € 28M), Matuidi (Juventus, € 25M), Aurier (Tottenham, € 25M), Augustin (Leipzig, € 15M), Gonçalo Guedes (Valencia, € 40M), Pastore (Rome, € 25M), Yuri (Athletic Bilbao, € 25M), Edouard (Celtic, € 10M + 50%), Lo Celso (Betis, € 25M) and Krychowiak (Lokomotiv, € 11M).

On field successes
His work in Porto and PSG was rewarded with major successes on the pitch too. During his time in Portugal, Porto won 11 league titles, eight domestic cups, 11 Portuguese Super Cups, a Champions League, two Europa Leagues and an Intercontinental Cup. At PSG they won two Ligue 1 titles, the domestic cup and the French Super Cup. His departure from the Parisian club came last summer due to differences with manager Thomas Tüchel and due to the successive setbacks in the Champions League.
His resume stands strong, though, and makes it clear why Manchester United are looking at him to put his stamp on the structure of the club as sporting director. In saying that, Henrique has other offers, and while his near future is not yet certain, we can be sure that an elite club will be following his guidance soon.