Copa del Rey draw: quarter-final ties revealed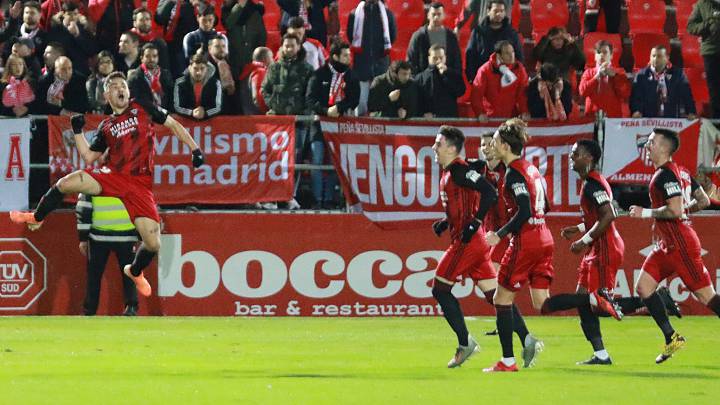 Copa del Rey quarter-final draw: as it happened
Copa del Rey quarter-final draw in full:
Real Madrid vs Real Sociedad
Athletic Bilbao vs Barcelona
Granada vs Valencia
Mirandés vs Villarreal
The ties will be played in single-match format on Tuesday 4, Wednesday 5 and Thursday 6 February; the exact day and time of each clash will be confirmed in the coming hours.
Thanks for reading!
Right, we're going to wrap up this live feed. We'll bring you details of the exact kick-off times of the four quarter-final ties as soon as they're confirmed, so be sure to stay tuned for that. Many thanks for joining me!
New Copa format means every tie a toughie, says Celades
However, Valencia head coach Albert Celades was wholly more circumspect in his reaction to the draw. Speaking ahead of his side's LaLiga clash with Celta Vigo this weekend, he said he was impressed with Granada's form in Primera División División since being promoted last season, and told reporters that the Copa's new format means that "every opponent is very difficult".
"Valencia's fans will be happy"
Speaking at the draw at RFEF HQ, Valencia ambassador Ricardo Arias couldn't hide his satisfaction at the holders avoiding the likes of Barcelona and Real Madrid in the quarter-finals.
"I think Valencia's fans will be happy," Arias told VCF Radio. "We've been drawn with a side who we shouldn't be over-confident against, but who give us the chance to keep on dreaming [of winning the trophy]."
Real Madrid must be wary of Odegaard, says Butragueño
Real Madrid director Emilio Butragueño has offered his reaction to Los Blancos being drawn with Real Sociedad, dipping into his little black book of not terribly interesting football speak.
"We're in really good form, we can't deny that, but we know what football is like," said Butragueño. "We're going to prepare well for every game and look to keep going as we are."
Asked about Martin Odegaard, who is on loan at Real Sociedad from Madrid, Butragueño said: "La Real are helping him to develop into a really terrific player; he's a key man for them and we'll have to be on our mettle."

Athletic vs Barça a classic Copa clash
Athletic Bilbao and Barcelona have met in no fewer than eight Copa del Rey finals, most recently in 2015. That night at the Camp Nou, Lionel Messi grabbed a brace - including a wonderful solo effort - as Barça won 3-1 to claim one third of a domestic and European treble.
Mirandés run "no fluke", says Villarreal boss
"Mirandés are a side who play good football and what they've done is no fluke," Villarreal coach Javi Calleja has said in the wake of the draw. "They've earned it out on the pitch. Going to their ground is going to be a tough task."
Villarreal fell to Mirandés in 2011/12
If you're after omens in the Mirandés-Villarreal tie, by the way, Los Amarillos were one of the Segunda División side's victims when they reached the Copa del Rey semi-finals in the 2011/12 season.
After a 1-1 draw in the opening leg of their last-32 tie, two goals by captain Pablo Infante gave Mirandés a 2-0 victory in the return at the Estadio de la Cerámica, sending Los Rojillos through to a last-16 clash with Racing Santander.
That said, the last time the sides met, in Segunda División in March 2013, Villarreal thumped Mirandés 5-1.
"Really tough" draw, says Roncero
"A really tough opponent will be visiting us at the Bernabéu," says AS journalist and number-one Real Madrid fan Tomás Roncero as he reacts to the draw. "Real Sociedad will push us all the way."
Copa del Rey quarter-final draw in full:
Real Madrid vs Real Sociedad
Athletic Bilbao vs Barcelona
Granada vs Valencia
Mirandés vs Villarreal
The ties will be played in single-match format on Tuesday 4, Wednesday 5 and Thursday 6 February; the exact day and time of each clash will be confirmed in the coming hours.
...and Granada director Pepe Macanás duly plucks the aforementioned Mirandés and Villarreal from the hat. That concludes the draw! They're over so quickly once you reach the business end of the tournament.
Athletic Bilbao legend Andoni Goikoetxea is the next VIP called up to do the honours, and he pulls out:
Granada vs Valencia
That leaves us with Mirandés and Villarreal - and we already know that the Segunda División club will be at home.
Former Valencia player and club ambassador Ricardo Arias is now up onto the stage to pull out the next tie.
He draws out... Athletic Bilbao vs Barcelona!
Just the 53 Copas del Rey between them.
First tie out of the hat
The first quarter-final clash to be drawn is: Real Madrid vs Real Sociedad.
Draw time...
Juan Alcaraz, representing last-16 heroes Mirandés, is up first to help pluck the balls from the hat. "I'm so proud to represent this team, I really am," he says.
A reminder that the eight clubs in the hat are: Athletic Bilbao, Barcelona, Granada, Mirandés, Real Madrid, Real Sociedad, Valencia and Villarreal.
As the only non-Primera División club in the draw, remember, Mirandés are guaranteed a home tie.
Quarter-final draw: how and where to watch?
It's just about time for the draw to get underway at RFEF HQ. Should you be keen to witness the balls come out of the hat, you might wish to take a look at this guide on how and where to watch.
Copa revitalised by revamp
As I say, it's been a really fun Copa del Rey - and that's in no small part thanks to the abolition of the competition's former format of two-legged ties all the way to the final. Single-match ties have given the lower-league sides a much better chance of a cup run, particularly as they're always the home team.
With no second leg in which to get themselves out of jail if they come unstuck in the opener, says former AS editor Alfredo Relaño, "None of the big boys are safe. The underdogs know that if they stick their neck out and go for it, they might just get their reward."

Madrid, Barça make serene progress
Having been made to work hard to beat third-round opponents Unionistas Salamanca and Ibiza, respectively, Real Madrid and Barcelona both enjoyed far smoother progress through the last 16. Madrid hit four to put Real Zaragoza to the sword on Wednesday, before Barça went one better on Thursday, thumping five past Leganés.
It was a much-needed result for new Barça coach Quique Setién, who was already under fire at the Camp Nou after being soundly beaten by Valencia at the weekend.

Granada, Valencia and Athletic pushed all the way
While Sevilla were stunned by Mirandés in the last 16, there were three other LaLiga sides who may have got through in the end, but were pushed right to the limit.
Holders Valencia needed penalties to see off third-tier Cultural Leonesa, who had already dumped Atlético Madrid out of the competition, while Athletic Bilbao were also taken to a shoot-out in an epic clash with Segunda side Tenerife.

Sevilla succumb to Matheus magic
There can be little doubting that Mirandés were the story of the last 16. Andoni Iraola's side not only beat Sevilla, but did so comprehensively, goals by Matheus Aias (two) and Álvaro Rey giving them a richly deserved 3-1 victory over Julen Lopetegui's top-flight side on Thursday.
Mirandés have a bit of form for Copa giant-killings in recent years, it's fair to say. Despite being a third-tier club at the time, they went all the way to the semi-finals in 2011/12, eliminating no fewer than three Primera sides in Villarreal, Racing Santander and Espanyol. On top of that, Los Rojillos also made it to the quarters in 2015/16 after defeating Málaga and Deportivo La Coruña.
Mirandés guaranteed a home tie
As the lower-ranked side in their tie, Mirandés will be the home team whoever they draw. The hosts in the other three quarter-final clashes will simply be determined by the order in which the names come out of the hat.

Who's in the quarter-final hat?
After two successive seasons of all-Primera División quarter-final line-ups, this year's last eight has lower-league representation once more, after second-tier Mirandés dumped out Sevilla with what was a thoroughly convincing win. More on that shortly.
The eight teams in the draw are:
Primera División:
Athletic Bilbao, Barcelona, Granada, Real Madrid, Real Sociedad, Valencia and Villarreal
Segunda División:
Mirandés
Copa del Rey draw: bienvenidos a todos
Good afternoon!
We're about to find out who's got who in the quarter-finals of the Copa del Rey - a competition which, it must be said, has been thoroughly entertaining so far this season.
Held, as ever, at the headquarters of the Spanish Football Federation on the outskirts of Madrid, the draw gets underway at 13:00 CET - about three quarters of an hour from now.
.