Barcelona: Ángel, Camp Nou agent provocateur or audition?
The Getafe striker, who is being courted by Barcelona to fill in for Luis Suárez and Ousmane Dembélé, will be on the opposing side on Saturday.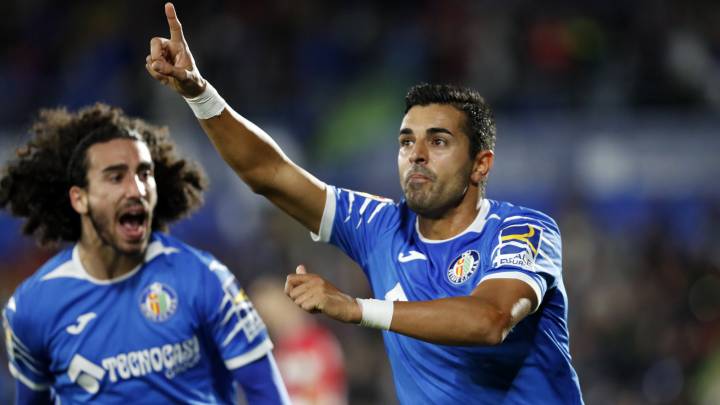 In a turn of events few could have predicted before January, Getafe striker Ángel Rodríguez and Barcelona's stars will cross at Camp Nou on Saturday with the Spaniard set to start against a side actively trying to add him to their own ranks to cover for long-term injuries to Luis Suárez and Ousmane Dembélé.
Getafe boss José Bordalás has included his top scorer for the trip to Barcelona where the Madrid side, currently in third, are in a decent position to dent the title hopes of Quique Setién's side a couple of weeks before the Clásico at the Bernabéu. Getafe boast the fourth-meanest defence in the league and have won their last four Liga fixtures by an aggregate of 9-0.
The Azulones have been the surprise package of the season so far and sit seven points behind Barcelona in the Liga table after 23 games. Victory in Camp Nou would not only close that gap to just four but would also hand Madrid the chance to ease six points clear at the top if Zinedine Zidane's side beat Celta at home on Sunday.
Ángel: "I'm calm and focused on Getafe"
All in all, it is a curious position for Ángel to find himself in, but not one that will affect how he goes about the game with the striker dismissing all the speculation as "just rumours."
"All I know is what has come out in the press," he said. "There's nothing at the moment. I'm calm and focused on Getafe. I am giving everything for this club and in principle, there's nothing."
The 32-year-old Canary Islander has bagged nine goals and two assists this season to help fire Getafe up the table and he will looking to add to that tally in Camp Nou with the Champions League beckoning for Bordalás' side. If the move does eventually go through – and Getafe president Ángel Torres has admitted he can do little about it if Barça come calling – the striker could find himself in the unusual position of having helped two teams into the Champions League in a single season and maybe pick up a Liga title as a bonus (he will be ineligible for European competition as the UEFA registration period has expired).
Barça are looking at other options as well as Ángel, among them Real Sociedad's Willian José, Alavés' Lucas Pérez, Betis Forward Loren and the Uruguyan's namesake, Luis Suárez of Zaragoza.