Real Madrid: Marcelo has become a liability
Data shows that with Marcelo on the pitch, Real Madrid improve slightly in attack but the team concede goals at double the rate that they do without him.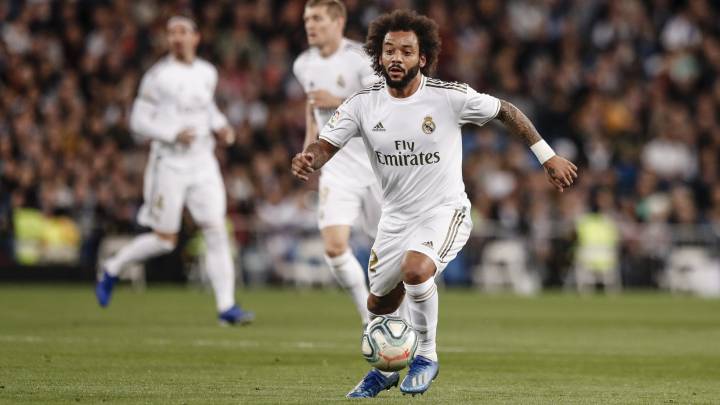 Zinedine Zidane has shown a genuine determination in helping recover the level of several players in his Real Madrid squad.
With some his insistence is bearing fruit, as has been the case with Luka Modric and Isco, who after disappointing showings last season, have gotten back to their best this term. With others it has been more difficult: Gareth Bale, for example, got his second consecutive start against Celta Vigo last weekend and again he disappointed. Marcelo, meanwhile, did some positive things in attack against Celta, however, his presence creates some holes in defence.
Marcelo's numbers for Real Madrid this term
Marcelo has so far played eight LaLiga matches, a sign that he has clearly fallen to second in the pecking order behind Ferland Mendy at left back. And in those eight games, Madrid have only managed one clean sheet, the 5-0 against Leganés. In the other seven games, Los Blancos have conceded nine of the total 16 goals they have let in so far in the league this season.
Despite the statistics, Zidane continues to back the Brazilian and his work in defence. "He played well defensively. You bring out the data, but we are happy with all the players when they play, we will continue fighting for everyone. There is a long way to go yet," said the French coach following the Celta game.
This may be so, however each week the season grows shorter: 24 of the 38 games have now been played, meaning more than three fifths of the championship are now behind Madrid, who find themselves just one point ahead of Barcelona. Although, there is a feeling that the gap could have been greater had Madrid not slipped-up at home against Valladolid (1-1) and Celta (2-2), both of whom found equalising goals at the Bernabéu in the dying minutes.
Los Blancos no longer have the Copa del Rey to play for (Madrid lost 4-3 in the quarters to Real Sociedad, another game in which the Brazilian started), meaning if Zidane wants to continue giving Marcelo opportunities, he will have to do so during this crucial point of LaLiga.
Real Madrid's goal rates with Marcelo
And if Zidane does choose to start Marcelo, he will do so knowing from the data at hand that it is not paying off. Across all competitions this season, Madrid have played 1,256 minutes with Marcelo on the field, during which they have scored 36 goals and conceded 17. Without him, they have played 1,924 minutes, scoring 37 goals and conceding 13.
Breaking that down to averages: with the Brazilian full-back, Madrid score a goal every 35 minutes and concede every 74 minutes; without him, they manage a goal every 52 minutes, but go an average 148 minutes without conceding.
What can be concluded from this data is that Marcelo improves Madrid slightly in attack, but with him on the pitch, the team concede goals at double the rate that they do without him. Statistically, then, starting with the Brazil international does not add up. However, Zidane seems determined to keep the veteran left back within the dynamics of the team, no matter what the cost.