"Haaland can be successor to Ronaldo and Messi" - Berbatov
Dortmund's teen sensation, Erling Haaland, has the potential to fill the boots of Cristiano Ronaldo and Lionel Messi, according to Dimitar Berbatov.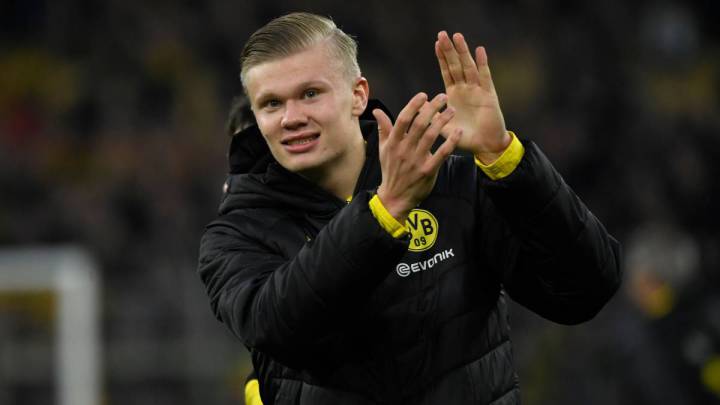 Lionel Messi and Cristiano Ronaldo will not be around forever. It is a sad fact of life which leaves football fans the world over looking at potential players who can fill the enormous gap that will be left when the two greatest players of their generation eventually hang up their boots.
PSG's 21-year-old star Kylian Mbappé has well established himself as a contender. The French international has so far netted 30 goals this season and looks set to surpass his 39-goal tally of last term.
But the most recent young player in the spotlight has been Borussia Dortmund's Erling Haaland, who has had one of the most sensational explosions onto the scene in the history of the modern game.
The 19-year-old Norwegian introduced himself to the world with a hat trick in his Champions League debut for RB Salzburg back in September. Four months later, he bagged yet another hat trick in his stunning debut for Dortmund, and has since followed that up with another seven goals across all competitions for the Bundesliga giants, including two against Mbappe's PSG a few weeks ago.
Leaving Mbappé in his wake, Haaland already has a staggering 40 goals this season for Salzburg and Dortmund, and there are surely more to come. Even the great Messi could only manage 16 goals in his first full season for Barcelona in 2007-08, while Ronaldo scored a mere six in his first full campaign with Man United.
Berbatov: Haaland and Mbappé can be next Messi and Ronaldo
Haaland's numbers have prompted many to talk of his potential to fill the boots of Messi and Ronaldo, including most recently former United star, Dimitri Berbatov.
"He is such an exciting prospect and for me there is a fair chance that he can be the successor to Messi and Ronaldo, not only him but I also like Mbappe as well, he just makes fun of defenders," said Berbatov in his regular column for Betfair.
"We need to hold our breath, hope these players stay healthy and continue to develop so that we can watch them for as long as possible at the top level."
Haaland decided to make the switch to Dortmund amid interest from the likes of Manchester United and Real Madrid. And Berbatov believes the young Norwegian striker made the right decision for his development by choosing the German club.
It's only been two months since the teenager joined Lucien Favre's side and there is already talk that United and Madrid will come sniffing soon again. Although, Berbatov feels Haaland should not be in any rush to leave his current team.
"This week there has been a lot of talk about clubs interested in Erling Haaland, but for me he has only just joined Dortmund and I don't see him moving to another big club just yet. I think he is in the right place now, you can see how he is improving, scoring goals, making assists," he said.
"If he did move to Manchester United or Real Madrid would he be at the same level that he is currently at with Dortmund? The team, the place where he lives and who he has around him are so important and that is why I am pleased with what he is doing at the moment because he has clearly got everything going for him there.
"He's so young and moving him on now would be a mistake for me, he needs to stay there and develop further. Other teams won't go anywhere and they will still be watching him, when the time comes a lot of people will be interested and it wouldn't surprise me if he breaks the transfer record and is sold for more than 200 million, but for now, let him play."
Haaland and Mbappé will come face to face again on Wednesday as Dortmund and PSG meet in Paris for the second leg of the Champions League last 16 tie, where the German club go into the game with a 2-1 advantage thanks to Haaland's two-goal heroics.
And with the two contenders to fill the boots of Messi and Ronaldo on the pitch, this mouth-watering clash has all the hallmarks to be one of the great nights of European football.