Real Madrid: Reinier's Castilla display sparks Coruxo criticism
Coruxo, who were beaten 4-0 by Castilla on Saturday, have railed at Real Madrid over their use of expensive signings in their 'B' team.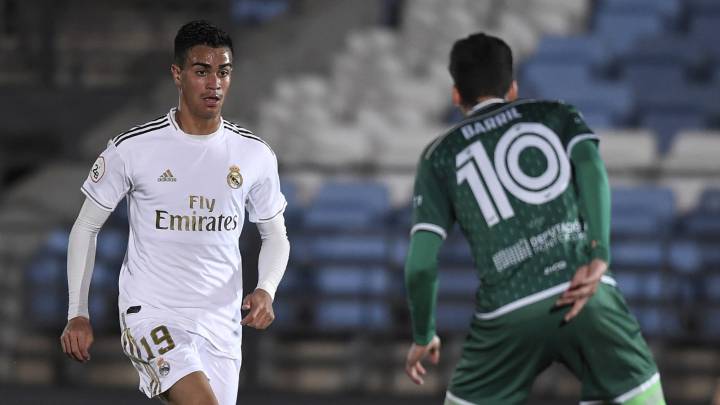 Spanish Segunda División B club Coruxo have hit out at Real Madrid's ability to field big-money signings in the Castilla team after being thrashed by the LaLiga giants' 'B' side.
Reinier's brace follows Rodrygo Castilla goal
30-million-euro January buy Reinier Jesus, who is to spend the rest of the season with Castilla, scored twice in a 4-0 third-tier win over Coruxo on Saturday, two weeks after 40-million-euro summer purchase Rodrygo Goes helped Madrid's second team to a 2-0 victory over San Sebastián de los Reyes.
In recent seasons, Los Blancos have also given Castilla game time to other high-profile teenage signings such as Vinicius Júnior and Martin Odegaard.
The rest of Segunda B put together couldn't pay Reinier fee, Coruxo complain
"All [the rest] of the 80 clubs in our division [of four, 20-team groups] don't have that much money between us," Coruxo wrote post-match on Twitter, in response to a tweet by media outlet tvG2 highlighting Reinier's two-goal display.
"And let's not forget that two weeks ago, Rodrygo, who cost 54 million [sic], got Castilla out of a tight spot late on against the bottom team in the table."
Quedástesvos a gusto cos 30 millóns, nin clubs de primeira teñen ese investimento. Xuntamos os 80 clubs da categoría e non se manexa ese diñeiro. Lembramos entón fai dúas xornadas, Rodrygo 54 millóns, salvoulles os mobles ao final do partido ante o último da táboa. https://t.co/ZptmFrr2zW

— Coruxo FC (@CoruxoFCoficial) March 7, 2020
Castilla up to sixth after Coruxo thumping
Álvaro Fidalgo and Antonio Blanco were also on target for Castilla against Coruxo, as Raúl González Blanco's men moved up to sixth place in Segunda B Group I, four points off the promotion play-off spots.