REAL MADRID
Real Madrid's defense becomes a sieve again
Zidane's side have let in 12 goals in the last 7 games including the Copa loss to Real Sociedad, which is the worst run of the season.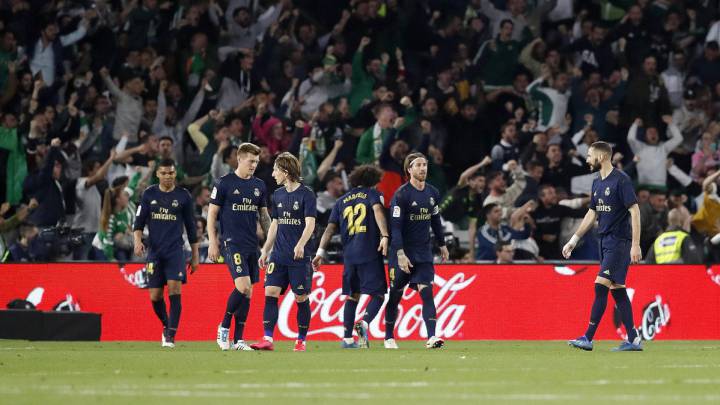 Everything changed when Real Madrid played Real Sociedad in the Copa del Rey. They were going in the right direction. They were the leaders of the league with three points to spare over Barcelona. They were putting up the best defensive numbers in the history of the league and beating Courtois was seen as almost impossible. The numbers gave them reason to smile after a worrying start to the season, which included a fright in the Champions League. Things were good and improving... until Real Sociedad showed up at the Bernabéu.
The Copa elimination has seen Madrid return to their old ways. Four goals like four hammer blows. In just one game, they let in as many as they did in 11 previous. Since Granada, the game after the Mallorca loss, only PSG were able to put two past them. Celta, City and Betis have achieved that feat in the last month. 12 goals in the last 7 games is the worst run of the season with a Clásico thrown in too when they kept a clean sheet. They recovered the top spot in LaLiga for an instant but lost it a week later.
Despite the terrible form, Courtois remains in the race to win the Zamora trophy 12 years after the last Real Madrid keeper won it (Casillas in 2007-08). And despite his great save to deny Fekir in the first half, his numbers look have slumped. The Belgian has let in eight goals in the last seven games, similar numbers he clocked up at the start of the season too with nine goals in his first five games.
The historic mark they have also been chasing -- Real Madrid's best defense in the history of LaLiga -- has taken a hit like their chances of winning the title. They have conceded 19 goals in 27 games. Four Real Madrid teams in the past have outdone that figure: 1964-65-1971-72, 1972-73 and 1987-88 and they all let in just 18.