ATLÉTICO MADRID
Atlético Madrid: Anfield took its toll on Álvaro Morata
Álvaro Morata, who travelled to Liverpool with fitness issues, ended up suffering a muscle tear at Anfield and faces the next month on the sidelines.
Álvaro Morata crowned a night to remember for Atlético at Anfield but in the process aggravated a persistent injury problem and will spend the next month on the sidelines. The striker was already carrying minor issues when the squad set off for Liverpool for this week's Champions League tie, played just 18 minutes at Anfield and slotted in Atleti's third of the night. But on arrival in Madrid, Morata underwent tests which have detected a torn hamstring. Medical staff expect Morata to be out of action for between five to six weeks.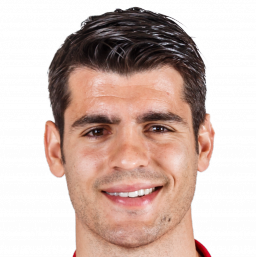 It's the second muscular injury which Morata has suffered in a month and a half. Both injuries could be related to muscle fatigue (although the other injury affected his calf muscle); the No.9 fell injured in the derby against Real Madrid on 2 February and forced his return to be ready in time for the first leg of the Liverpool tie on 18 February. In other words, he gave himself just 16 days to get over his calf muscle injury which is right at the limit. He reappeared at the end of the Valencia game and featured in the starting line-up against Liverpool. But he clearly lacked sparkle and freshness against Klopp's team. Against Sevilla last weekend, he was taken off early and hobbled back to the dug-out in obvious discomfort.
Atlético's 27th injury so far this season
Morata didn't train with the rest of the Atleti squad on Monday. It was a surprise to see him on the subs' bench at Anfield on Wednesday night. He entered the pitch on 102 minutes, replacing João Félix and injured his hamstring with his first sprint.
However he kept on playing as Simeone had used up all of his subs and scored the last goal of the night. Two days later he could hardly walk. Tests confirmed a ruptured hamstring. It's the 27th injury to have affected the Atlético squad this season and comes just when El Cholo was about to have a full squad available for the first time with Thomas Lemar due back soon.
Due to the postponement of Spanish and European football due to coronavirus it is very likely that Morata will not have to miss any football due to this latest injury.