Barcelona: Neymar wants Messi reunion and will pressure PSG
The Brazilian remains determined to rejoin his former Barcelona teammates at Camp Nou and wil ramp up the pressure on PSG this summer.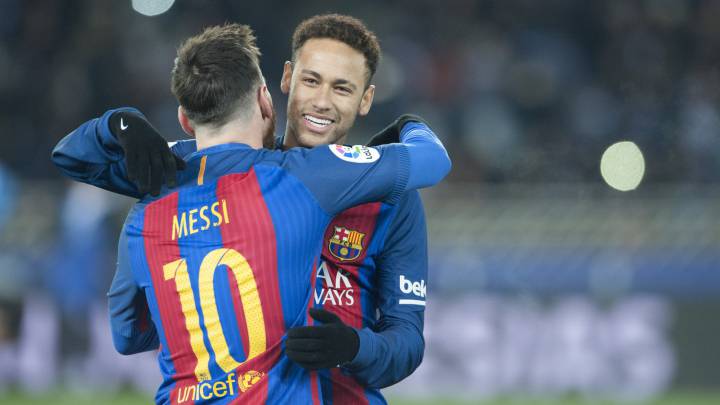 The long-running saga of Neymar's return to Barcelona to be reunited with Leo Messi and Luis Suárez looks set to for a second round this summer amid reports that the Brazilian superstar is going to apply the squeeze on PSG to allow him to return to Camp Nou.
Neymar strutted his stuff in Catalonia between 2013 and 2017 before making a world record €222m move to the Parc des Princes and according to Barcelona-based daily Sport he has informed his people to get moving on a return to his former club.
However, Neymar's desire to wear the claret and blue again is only a small part of the equation. First up is the not inconsiderable application of Article 17 of FIFA's regulations, which since 2001 have allowed a player to unilaterally rescind their contract with a club, with the cost of breaking the contract being determined by FIFA itself. In the case of Neymar, that fee is unlikely to be peanuts.
According to sources close to the negotiations, Neymar is likely to cost between €180m and €200m, which will effectivel rule out any other signings during the summer, such as Lautaro Martínez.
PSG will look to recoup Neymar investment
Neymar's failed bid to leave PSG dominated headlines last year and despite the best efforts of Barcelona - efforts that Messi suggested were not sufficient - the move never took place. PSG are into the quarter-finals of the Champions League for the first time in four seasons and if the Brazilian can deliver European glory the Parisian giants may be more willing to wave goodbye to Neymar, always assuming that they retain Kylian Mbappé.
In the meantime, the global coronavirus pandemic has put football on hold and it remains to be seen if the 2019-20 season is even completed. But what is certain is that Neymar and Barcelona will continue to make eyes at each other this summer whatever the circumstances.