CHAMPIONS LEAGUE | LIVERPOOL-ATLÉTICO MADRID
Ancelotti: "Klopp told me it was criminal that the Atlético tie went ahead, and he was right"
Everton's manager chatted to 'Il Corriere dello Sport' and said he couldn't agree more with Klopp that the coronavirus crisis affected Liverpool's tie against Atlético.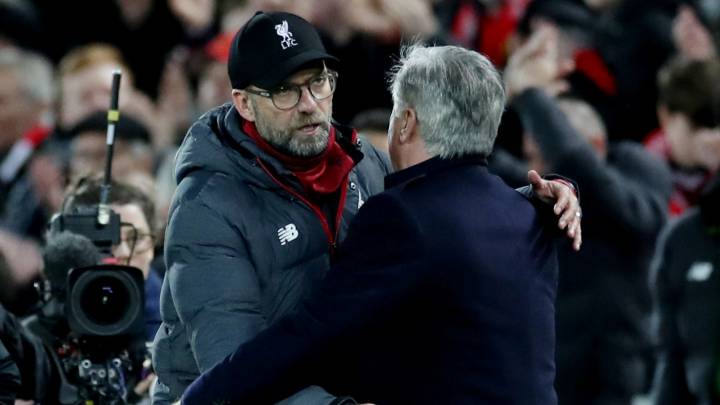 In a recent interview on Liverpool's official web site, Jürgen Klopp confessed that the coronavirus crisis did affect his preparations for the Champions League Last 16 return leg against Atlético Madrid on 11 March. Today, in an interview with Il Corriere dello Sport, Carlo Ancelotti commented on what the Liverpool manager had to say to him about the game. The Everton boss recalled a conversation he had with Klopp about the Liverpool-Atlético game being open to the public just as the coronavirus crisis was starting to escalate in Spain - with Madrid later to become the epicentre. "Klopp told me that playing under those conditions was a criminal act and I think he was right".
"People with no knowledge of Covid-19, like me, shouldn't be talking about it" - Klopp
Klopp preferred not to discuss the Covid-19 epidemic during his pre-match press conference for the return leg, which ended 2-3 to Atleti - or in his dealings with the media a week earlier after Liverpool had been knocked out of the FA Cup by Chelsea, arguing that as a football manager, he was not qualified to make a rational comment. Atleti coach Diego Simeone said in his pre-match press conference that he hoped the game would be played, like the first leg, in front of the fans.
The other three Round of 16 return leg ties that week were all played - two of them, Valencia-Atalanta and PSG-Dortmund took place behind closed doors.
100 coronavirus cases confirmed in Liverpool
Around 3,000 Spanish fans travelled to Merseyside for the game but there is no evidence to suggest that their presence contributed to the number of coronavirus cases in the region - 200 confirmed cases on Merseyside, half of them in Liverpool with one death believed to be Covid-19 related, local musician Cy Tucker who was 76.
Ancelotti gave his thoughts on the coronavirus crisis, which has now turned into a pandemic and how it could affect football: "Right now, the priority is health and limiting infection so that it doesn't get out o hand. Everything else is secondary. I am not worrying about when games will start again or when the season might end. Believe me, I couldn't care less, right now it is the least of my worries," Ancelotti said.