Coronavirus: total Nigeria cases and deaths, real-time map
Updates on the total number of registered Covid-19 cases, deaths and discharged patients, both in Nigeria and across the world.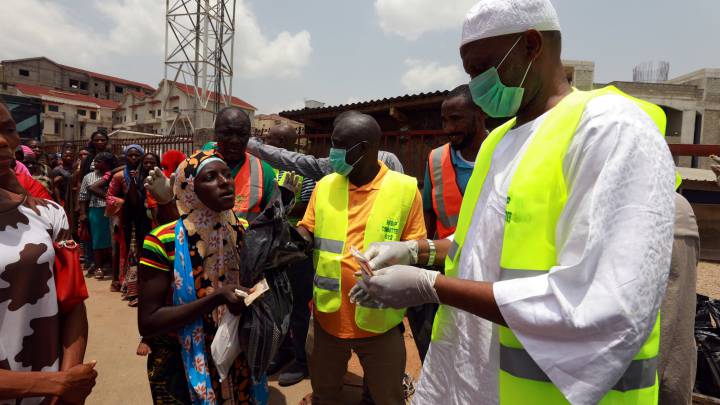 Confirmed Nigeria coronavirus cases
As of 01:00 WAT on Tuesday 7 April (02:00 CEST), there had been 238 confirmed coronavirus cases and five deaths in Nigeria, while 35 people in the country have recovered after contracting Covid-19.
Nigeria to ask for funding
The country's government, through their finance minister Zainab Ahmed, spoke to the press about their request for help of almost $7 billion from the IMF, the World Bank and the African Bank of Development.
"We have a contribution of $3.4 billion in the IMF and we are entitled to draw up to the whole of that ... We have in the first instance applied for that maximum amount, but in the process, we will negotiate."
Funke Akindele fined for party during lockdown
Leading Nigerian actress Funke Akindele has been fined $260 after holding a party during the lockdown imposed to stop the spread of Covid-19. She defended the party, held to celebrate her husband's birthday, and said everyone there had already been living at her house for several days. She did apologise though and promised to practice social distancing.
I hear you all and I acknowledge all your honest feedback.

I also thank you for your concerns, well wishes and calls.
I am sorry and hope this video offers some explanation.

Please stay safe. And God bless. @lagosstategovt https://t.co/Hr8xKOK1Dp

— funke Akindele Bello (@funkeakindele) April 5, 2020
Worldwide real-time coronavirus map
Click here if the map doesn't automatically appear. (Map created and hosted by Johns Hopkins University Whiting School of Engineering, our thanks to them.)
Worldwide coronavirus cases
The total number of confirmed coronavirus cases worldwide at the above time stood at 1,344,859. In total, 74,635 people have died from Covid-19, while 278,330 have recovered from the disease.
See also:
Anti-parasite drug ivermectin shown to be effective against coronavirus
What is ivermectin and what is it used for?
UK Prime Minister Boris Johnson taken to intensive care

Live coverage of the coronavirus crisis
You can stay up-to-date with the latest developments in the coronavirus pandemic by following our daily live blog.
---
The complete lowdown on Covid-19