Coronavirus peaks in USA, UK and India, when are they expected?
With a degree of normality beginning to resume to daily life in China and a number of European nations seeing the 'curve' flatten, when are the peaks expected in the US, UK and India?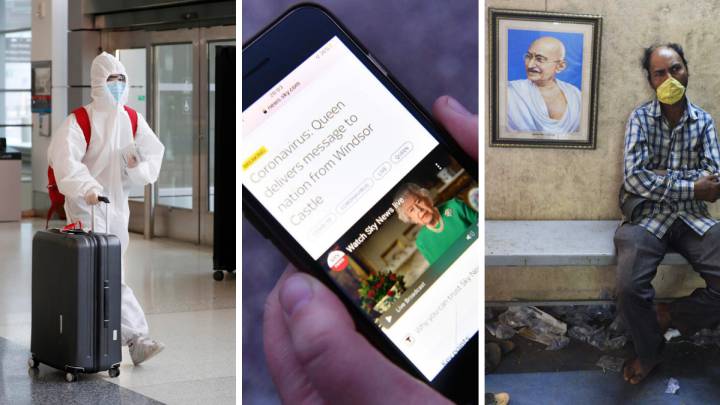 With a semblance of normal daily life beginning to resume in many Chinese cities and a number of European nations such as Spain, Germany, Austria and Denmark seeing the 'curve' flatten, many are asking when are these peaks expected in the major global nations such as the USA, UK and India?
To offer a detailed overview, it's important to analyse each country on a case-by-case basis given the complexity of the Covid-19 pandemic in each nation.
USA
Current scientific data indicates that the US will reach its peak number of deaths from coronavirus on or around April 16 with Surgeon General Jerome Adams offering a stark warning about what is expected from the next wave of the virus.
"This is going to be our Pearl Harbor moment, our 9/11 moment. What is more alarming is that it is going to spread across the nation," he said during an interview with Fox News.
Surgeon General Jerome Adams warns people to brace for "the hardest and the saddest week of most Americans' lives," calling the coronavirus pandemic "our Pearl Harbor moment, our 9/11 moment, only it's not going to be localized." https://t.co/otcHcUFlqk

— The Associated Press (@AP) April 5, 2020
Covid-19 has already taken more US lives than both tragic events combined. In the 9/11 terrorist attacks 2,977 people died; at Pearl Harbor 2,386 lost their lives. Meanwhile Covid-19 has claimed almost 11,000 lives nationwide (at the time of writing).
Both New York State and city remain as the worst affected area of the country with a third of the nations 367,000 positive cases coming from this area with NYC mayor Bill De Blasio stating: "This is a wartime moment — and New Yorkers are fighting back with everything we've got."
United Kingdom
With the country on lockdown since 24 March, Deputy Chief Medical Officer for England, Jenny Harries anticipates the peak in the UK on or around 12 April and that should a "strict observation of lockdown conditions be met, a decline in numbers should be expected after the peak."
Speaking to the BBC, Professor Neil Ferguson of Imperial College (London), which is acting as an advisor to the government stated: "The critical thing first is to get case numbers down, and then I'm hopeful... in a few weeks' time we will be able to move to a regime which will not be normal life, let me emphasise that, but will be somewhat more relaxed in terms of social distancing and the economy, but relying more on testing."
British Prime Minister Boris Johnson who was diagnosed with coronaviruis at the end of March was hospitalised on Sunday and remains in intensive care following a deterioration of his condition on Monday night.

As of Tuesday 7 April, there had been 51,608 confirmed cases of coronavirus in the UK, with 5,373 deaths in total.
India

With a population of 1.3 billion people, India is currently under lockdown with Prime Minister Narendra Modi confirming the world's largest lockdown on March 24th.
The country has yet to see the peak of the Covid-19 epidemic, said Public health specialist and president of Public Health Foundation of India (PHFI) Dr K Srinath Reddy.
"We have not reached the peak. We are still on the climbing part of the curve. The intent is to slow it down and bend it soon through various measures, including lockdown. All crowded events in March would have had a negative effect, but we must enforce strict discipline now", added Reddy.
Given the vastness of the country, it's extremely complicated to forecast when the peak will arrive in India with Dr Neeraj Patil (a 52-year-old Indian-origin doctor from Gulbarga in Karnataka) adding, "India is facing a huge challenge because of its huge population and lack of financial/health resources to combat this challenge". he adds, "we are still at the beginning of a pandemic and the worst days are yet to come. Artificial intelligence predicts a peak in June-July in India".
At present (7 April) there had been 4,778 confirmed coronavirus cases and 136 deaths in India.
Live coverage of the coronavirus crisis
You can stay up-to-date with the latest developments in the coronavirus pandemic by following our daily live blog.