Real Madrid: Zidane asks club for RB Leipzig's Upamecano
RB Leipzig's 21-year-old centre-back Dayot Upamecano is at the head of Bernabéu boss Zinedine Zidane's defensive wishlist.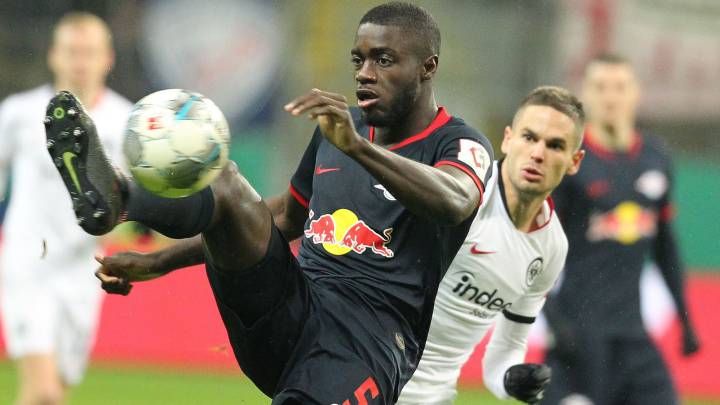 Dayot Upamecano, 21, is top of the wishlist Zinedine Zidane has given Real Madrid as he looks to strengthen in central defence. Upamecano has been at RB Leipzig since January 2017, establishing himself as a key player in the Bundesliga side thanks to his impressive performances both in the German league and in Europe.
Nacho relegated to the fringes at Real Madrid
Zidane is keen to freshen up his defensive options for two reasons. Firstly, he appears less and less willing to turn to Nacho Fernández. The youth product, who turned in 30 in January, remains an exemplary dressing-room presence and chipped in with the winning goal at Real Valladolid in January, but has fallen to the fringes under 'Zizou'.
Having been a starter for Spain in their World Cup opener against Portugal just under two years ago - scoring a fine goal in the 3-3 draw - Nacho has become a perennial substitute at Madrid this term. His transfer value has plummeted as a result: once worth 35m euros, he is now valued at just 12m by the specialist website Transfermarkt.com, despite having two years left on his contract - a development that is attracting a number of suitors across Europe.
Zidane unimpressed by summer signing Éder Militão
However, Zidane doesn't want Upamecano as his fourth-choice centre-back, but is instead planning on installing him as his primary alternative to regular starters Sergio Ramos and Raphael Varane. This role is currently occupied by Éder Militão - which brings us to Zidane's second reason for eyeing up the Leipzig man.
When Madrid sealed the signing of Militão in January 2019, Zidane had not yet returned to the Bernabéu dugout. The Brazilian is a purchase he didn't ask for, and the player's performances since his arrival from Porto have not satisfied Los Blancos' boss. His most recent outing, at right-back against Real Betis, was an absolute fiasco. Signed for 50m euros - a club record for a defender - he is now valued by Transfermarkt at just 36m…
Upamecano is in the same age bracket as Militão, but appears to be making much greater progress. When he arrived at Leipzig from RB Salzburg, he cost just 10m euros, the same price that Madrid paid Lens in 2011 for Varane, a young signing recommended to the club by Zidane himself. Upamecano would be a kind of Varane 2.0; indeed, he has confessed on several occasions that the Madrid defender is a player he looks up to and is out to emulate.
Upamecano out of contract at RB Leipzig in 2021
Encouragingly for Madrid, Upamecano is out of contract at Leipzig in 2021, causing his estimated worth to fall from 50m in December to 45m now - a logical progression, given that, as things stand, he would be in a position to negotiate a free transfer in January. However, Zidane is confident he'll have the youngster at his disposal when next season gets underway - although the upheaval caused by the coronavirus pandemic means it's hard to know exactly when that'll be.
Were he to move to Real Madrid, Upamecano would join a growing list of Frenchmen and French speakers in Zidane's squad, with Varane, Ferland Mendy, Karim Benzema, Thibaut Courtois and Eden Hazard already at the Bernabéu.