Real Madrid to return to work when "there is zero risk"
In light of Real Sociedad's announcement that it intends to resume training, at Real Madrid the general stance is that a return to work will only happen when there is "zero risk".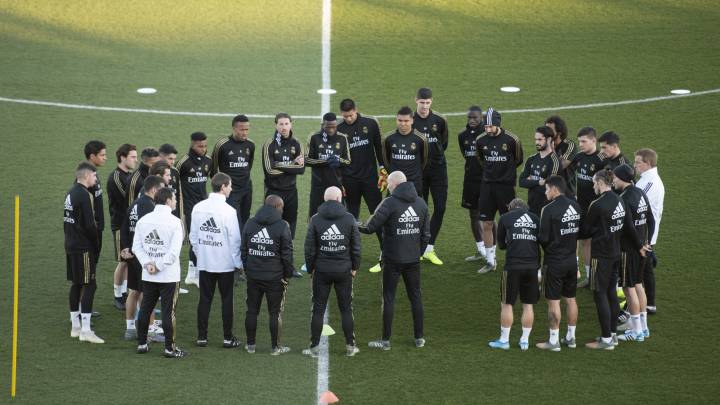 Real Sociedad's announcement on Saturday has caused a stir among teams in the Primer División, as it could be seen as a signal that training for most could resume shortly.
Yesterday, the Basque club announced that that the first team squad will commence training on Tuesday, although with certain restrictions in place, such as working in small groups of two/three players, utilising different pitches and dressing rooms and a minimum distance of two metres between players.
At Real Madrid, however, although they are very attentive to this possibility – which is logical considering they are fighting for the league and there are still hopes of a comeback against Manchester City in the Champions League – a return to work is not being contemplated until "there is zero risk to health", according to club sources.
This stance is unanimous at all levels of the club, from the board and medical staff to the coaching staff, and, of course, the players, all of whom are making a great effort to stay in shape with their training routines at home.
Follow our live coverage of coronavirus news.
Real Madrid's return to work protocol
Real Madrid will be watching closely to see what decisions will be taken regarding Sociedad, but at the moment it seems that Spain's National Sports Council have denied the club's proposal to return to training.
And in Madrid's case, getting the green light to return to work, even in a limited capacity, would be more difficult since the Spanish capital has been the hardest hit by the coronavirus crisis. As such, our Madrid sources believe the possibility for club's returning to training in other regions is greater.
But assuming Madrid could gain permission from both the regional health authorities and the government, the second step in the protocol would entail the club's medical services and coaching staff being consulted on whether it were advisable to return to work. The next step would require the green light from the players, as the decision will ultimately be consensual.
"The players are itching to get back training," ensure club sources, however only when there is "zero risk". Either way, they recognise that truly effective preparatory work can only be done when there is a return to group training. Therefore, it is estimated the club will need a 21-day "mini preseason" before competing again. However, at Madrid, that scenario, despite the movements made by Real Sociedad, is considered a pipe-dream.