Upamecano sets up another Real Madrid-Bayern Munich duel
The German powerhouse are on a collision course with Los Blancos as they focus on enticing the French youngster into their new defence. But Madrid have an ace up their sleeve.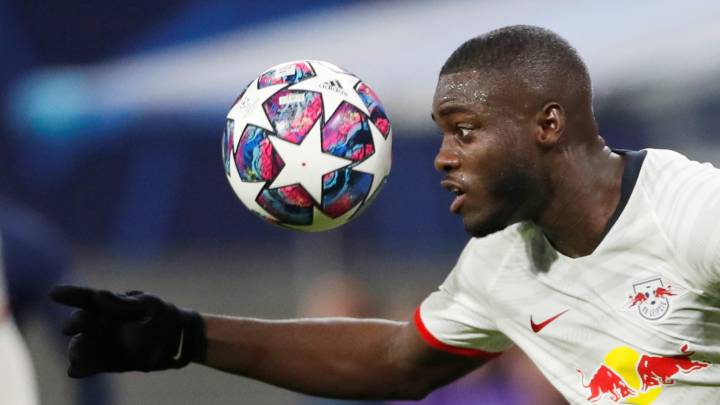 Real Madrid and Bayern Munich have had plenty of intense duals on the pitch over the years in European competition, but it appears now that this could be carried over to the boardrooms. As we published last week, French central defender Dayot Upamecano (currently at RB Leipzig) is an admirer in Zinedine Zidane, but the German giants are in the hunt for his signature.
Madrid or Munich for Upamecano
With both Jerome Boateng and David Alaba close to the exit door, the Bavarian club are carefully planning a reconstruction of their defence. And 21-year old Upamecano is at the top of their list.
"The competition for 'Upa' is very strong," sources close to the French defender explaind to AS. Last summer it seemed that the Premier League would be home to the player, with Arsenal in the driving seat, but the situation has changed due to Upamecano's impressive development over this, as yet, unfinished season.
There is still plenty of uncertainty caused by the current coronavirus pandemic but the French youngster is clear that he wants a new challenge, and the suitors are lining up. As we previously reported, he has pressured Leipzig into selling him, and with his contract only running until 2021, the end of this season will see his release clause drop from €100 million to €60 million.
That is the value that Bayern plan to offer, according to information from Sport Bild, and they are determined to get their man after monitoring Upamecano intensively. But the price could go down even further as the financial effects of Covid-19 are felt, and possibly if Zidane, and by extension Real Madrid, takes a back seat.
Almost a mere spectator in all of this is Leipzig. In January they rubbed their hands together because they still had faith that they could hold onto Upamecano, and then look to sell on for a greater fee. But this has all changed and one of their prized assets may leave them for considerably less than they were expecting.
Bayern offers a start but Madrid have Zizou
Although those around the defender would like a break from the uncertainty generated by the coronavirus crisis to better evaluate his options, in Munich and Madrid they are lining up their best hand from the deck. Bayern can guarantee Upamecano a starting berth as part of the aforementioned defensive rebuild, and that is something that he wants. But Los Blancos have his legendary compatriot Zidane at the helm, and he could be enough to convince.